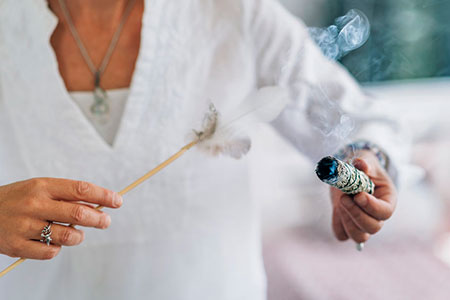 Clients sometimes ask me to do an energy clearing in their homes or businesses. In have even been asked to do a cleansing in stables, where the horses had been inexplicably out of sorts and acting out of character. The energy clearing methods I use vary from the more typical Western techniques to traditional African methods that I learned while living there.
One of the most memorable clearings I ever did was for a long-standing client who struggled with a deep sense of guilt over the suicide of her late husband. She had asked me to do an energy clearing ritual in her home, to see what I could pick up.
Her husband had ended his life sitting in a large, plush wingback chair in their home, where they were bringing up their two young children. Apparently, they had argued a lot in the weeks leading up to his death, particularly after he'd discovered her affair with another man.
Guilt overwhelmed her, and her late husband's family made their judgment of her very clear. They felt his passing was her fault.
In a mediumship reading I did for her, her late husband had come through with messages that proved he had crossed over to the Other Side, that he was at peace, and that she was never to blame for him choosing to depart from this life. Instead, he spoke of his own life-long battle with depression, and his personal failures in their broken marriage.
The mediumship validations were however not enough to ease my client's haunting feelings of guilt. She was convinced that her husband's troubled spirit was haunting their home, and she insisted on me doing an energy cleansing. She was, however, not keen on some of the more typical Western clearing methods, nor the shamanic African approaches I offered, so I suggested we simply use some sage incense and prayer, and she was satisfied for me to do so.
She also consented to me having free access to every nook and cranny of the house, because it is often surprising where energy disturbances can reside. She believed there was a heavy, dark cloud of negative energy around that wingback chair, but to my surprise, there was nothing! In fact, the whole room was clear of any negative vibrations. Continue reading →