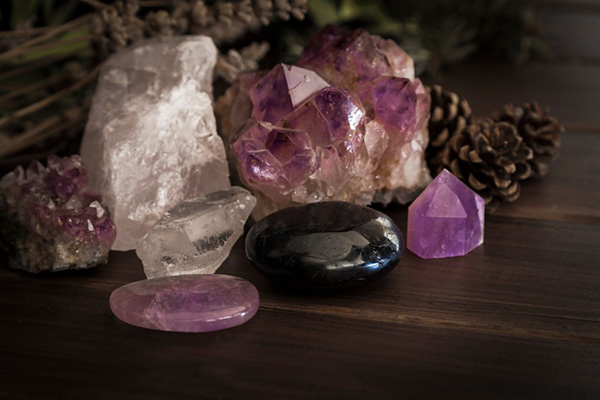 Crystals and gemstones are a popular resource in modern metaphysical practices, mysticism, and alternative spirituality. It can be used in various powerful ways, including healing, energy protection, meditation, prayer, manifesting, divination, psychic reading, and channeling.
Crystals are versatile and useful in enhancing one's spiritual practice or energy work, but there are so many to choose from that it can difficult to know where to start.
Three of my favorite crystals that I recommend for beginners to get started with are amethyst, rose quartz and black tourmaline. These three crystals are affordable and easy to find, so they are ideal to start with if you wish to explore using crystals to expand your spiritual practice.
Amethyst
Amethyst is the ideal stone to start with because it has a gentle energy that almost anyone can tolerate without being overwhelmed by its influence. It is a fantastic stone to help you get in touch with your intuition and find your calm center. Amethyst's calming energy especially enhances meditation and dreamwork.
Amethyst is associated with the crown chakra. It heightens our spiritual and personal awareness, which in turn helps us to self-reflect and evaluate more honestly where we need to make adjustments in our beliefs, behavior, and perspectives. Amethyst thus supports us in maintaining clarity in our self-reflection, which is a vital first step in a spiritual journey of higher consciousness and personal enlightenment.