Amethyst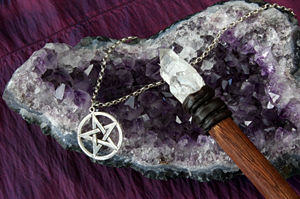 It is said that "the wand chooses its master" and this is the story of how my wand came to be with me.
Several years ago I worked as a full-time reader at an area psychic store. I loved my job and my clients. The location was perfect and I looked forward to going to work every day. One special day, however, was the start of my journey towards receiving my magic wand.
It started as a normal day with clients coming in to see me, psychic readings to do, and books to marvel at and glance through.  I'd had lunch and was sitting in my room preparing for the afternoon's arrivals, when I heard the jingle of the front door.
I knew, somehow, that the jingle was meant for me, although I wasn't expecting anyone for at least another hour. So, I got up and walked towards the front of the store and there was a short, and forgive me for saying it, rather unattractive and ordinary looking man standing there looking at me. He appeared ordinary until you looked into his eyes. They contained wisdom – and something more. I eventually learned that the 'something more' was a certain disdain for the human race, but that's another story. Continue reading →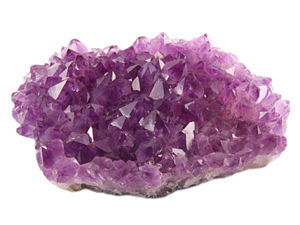 The calming and spiritually protective Amethyst has a mysterious energy about it, and the beautiful coloring makes this purple quartz even more exceptional. It is formed in the presence of manganese and is found in Brazil, Uruguay, South Africa, Madagascar and India.
Just holding a piece of Amethyst helps raise your vibration, putting you into a calmer and accepting frame of mind. It is believed that its very essence heals on the metaphysical and physical levels of our being.
Experts in crystal healing teach that Amethyst Crystals are the foremost stones of the Violet Flame. The use of the violet flame which emanates from this exquisite stone is overseen by the Ascended Master St. Germain. The violet flame helps transmute negative energies in the body and creates harmony. Wearing Amethyst jewelry is a powerful way to absorb the benefits of this magical stone. Continue reading →