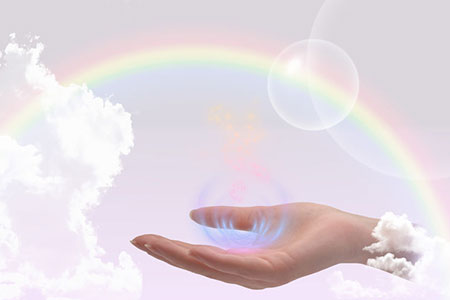 My first experience of the spiritual gift of healing was when I went to visit my father in the hospital many years ago. He was in great pain and something told me to gently touch the knee on which he just had surgery. It was not my intention to achieve anything, simply to comfort him. But then I saw his facial expression shift from agonizing pain to instant relief. That to me was a miracle!
The next major healing miracle happened when one of my twin daughters went ice skating when she was about 8 years old. I was watching the children enjoy the beautiful winter day, when my daughter suddenly slipped and fell. I will never forget her agonizing scream. I instantly knew this was bad!
As I was making my way to her, others where already helping her, but she would not stop screaming and it shot through me like bullets. When I got to her, I immediately saw the bone protruding through her skin. I then put my hands over the break on her forearm and said, "It's okay." In the blink of an eye, she stopped crying and said, "Mommy it doesn't hurt anymore. "
I held her arm all the way to the hospital and when we arrive they made me remove my hands. Again, I had to hear my daughter screaming in pain, with me feeling helpless.
After they set her arm, they let me see her. I touched the cast on her arm and immediately sensed it was not set correctly. Of course, they refused to listen to me at first, but I kept insisting that something was wrong. Finally, they agreed to do a second X-ray, which showed my daughters arm was in fact not correctly set. So, she had to have it done all over again. A nurse asked me how I knew. I never answered.