birthstone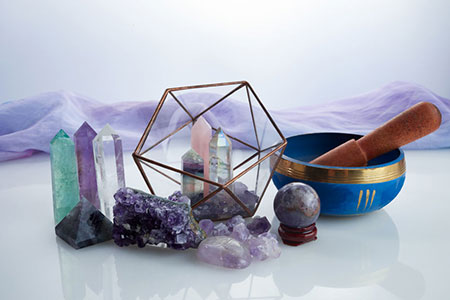 If you regularly use crystals in your spiritual practice, it is vital to have a regular cleansing routine for them to work at optimal levels.
Crystal energy work uses the subtle energy vibration emitted by a crystal, for example to rebalance the human aura or energy field for mind-body-soul health and wellness.
Crystals have a vibrational frequency based on its geometric structure giving each crystal a unique default wavelength known as its oscillatory frequency or its 'energy signature.' It is a stable energy emission that is applied to rebalance and heal our own energies.
The human body also has its own oscillatory rate or energy frequency, but our vibration is constantly shifting and changing due to various internal and external factors, including our thoughts, beliefs, mood states, nutrition, sleep, lifestyle choices, relationships and our environment.
The difference between the energy frequency of humans and crystals is that while ours fluctuates and is constantly changing, the vibration of a crystal in its natural state remains constant, stable and unchanging. It is like the factory settings on a brand new computer.
However, like a computer or the human body, crystals can also become contaminated with negative energies, much like viruses or malware. For our healing crystals to continue working the way nature intended, it is important to cleanse them properly or a regular basis.
Some practitioners cleanse their crystals and stones after each session, and this is not a bad idea, considering we expose them to all kinds of energies, no matter how unintentional, every time we handle them. Think of how many smudges and smears you create on your phone screen or glasses every time you use them and then imagine what the many energy imprints your crystals must endure with regular use.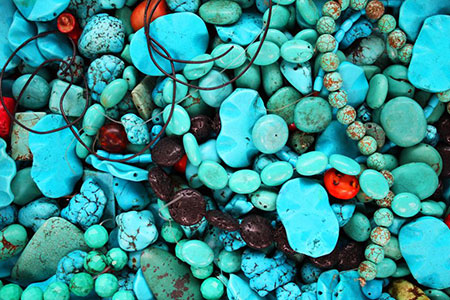 In town today, I passed a jewelry store predominantly showcasing pieces of turquoise jewelry. I instinctively looked at my hand. Yes, I was wearing my turquoise ring!
Some eight years ago, as I sat in my monthly psychic circle, my father came through with a no-nonsense message for me to "wear the turquoise ring!" The other sitters in the circle looked a bit taken back, because they had no knowledge of me owning such a turquoise ring.
And so, I did wear it for a while. But, in time, it increasingly remained in my dressing table drawer. However, recently, in a profound reading I had with a trusted medium, the turquoise ring was brought up again, and in even less uncertain terms this time! So, now I'm wearing it again, upon dad's insistence.
Turquoise is known in metaphysics for its protective qualities. When I was studying Aura-Soma, some twenty odd years ago, I was always drawn to turquoise as a color. Aura-Soma is a method of color therapy, as well as a divination system based on colors, originally devised by British pharmacist and chiropodist Vicky Wall.
I soon learned that the color combinations, and the sequence in which I chose the turquoise, were both relevant to my past lives in Atlantis. This interpretation by my course mentor made absolute sense, because in two very significant past life regression sessions later on, these lifetimes in Atlantis also featured very strongly. Perhaps this is why I always loved the color so much, even from a very young age.