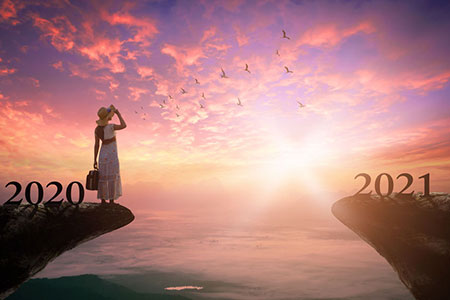 With the difficult year 2020 finally in our rear-view mirror, it is time to stop for a moment, clear our minds, hearts and spirit, and embrace the hope, happiness, well-being and prosperity that awaits us in the new year. We do not have to carry the pain and chaos of 2020 forward with us.
The first step to achieve this would be to check our alignment body, mind and spirit. Alignment is defined as the "arrangement in a straight line, or in correct or appropriate relative positions," as well as a "position of agreement or alliance." Happiness, well-being and abundance becomes blocked for us when we are not in agreement and alliance with our spirit.
Many of us have been in survival mode the past year, instead of in thrive mode. Dramatic changes in our health and wellness, career, business, finances, relationships, family and social life, and our lifestyles in general, can cause our soul energy to go sideways and out of alignment, just like being sideswiped by a car.
If you step off a curb suddenly, fall, twist an ankle, or pull a muscle, it will often put unusual stress on our spine and central nervous system. When the spine is misaligned a myriad of symptoms such as headaches, lower back pain, neck pain and numbness can manifest. Symptoms like these are the body's way of letting us know something needs to be urgently attended to.
The same holds true for our spiritual well-being. When our energy, mental processes, and emotions begin to run amuck, our spiritual alignment needs to be corrected to regain our balance. Our body, mind and spirit must all be facing the same direction for us to move forward.
Staying in alignment with Spirit enables us to bounce back quickly, stay on course and manifest happiness and prosperity in our lives. Alignment with Spirit is our natural and preferred state, and while we may find ourselves temporarily off for various reasons, we are never too far to come back.