The Psychic Power Of Crystals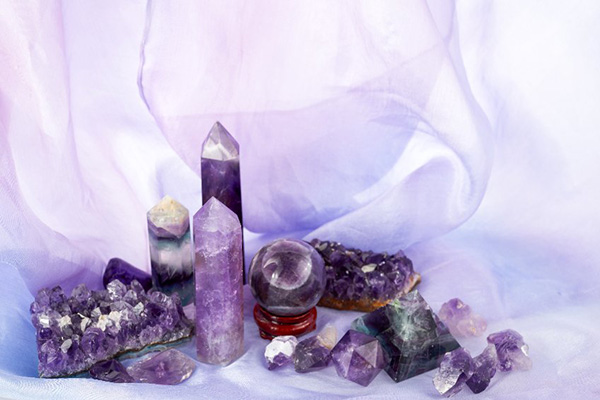 I've been surrounded by crystals, both in my personal healing and psychic work, since I can remember. I wouldn't call myself an expert on the subject, but I do know that these beautiful stones are aesthetically pleasing, and powerful to have around.
Many crystals have been given to me as gifts, and it's as if the giver always knows exactly what I need in terms of what the gemstones or crystals can help me with.
When choosing crystals and stones for psychic work or energy healing, I simply allow them to 'speak' to me. The vibration of the ideal ones for every purpose always resonates with me.  I simply allow them to 'speak' to me, trusting that their vibrations will call me. The actual color of the crystal or stone can have quite a profound effect on the mind. For example, medical patients are known to respond to the color blue, when it is used decoratively in a recuperative environment, and criminals are known to be calmer in a cell painted in very pale pink.
I also own a small collection of crystal balls, and it's as if an image materializes in my mind when gazing into my crystal ball, as opposed to what I see in the actual crystal itself. You might say it is a third eye opener!
I surround myself with amethyst for the calm it brings, rose quartz to bring in loving energy, pyrite for psychic protection and various quartz crystals to assist me energetically, and just because I find them beautiful to behold.
My bone-throwing divination kit consists of a large collection of stones, each representing a token or a symbol. Each stone has its own story and can represent a significant meaning, person, animal or place to me.
I am only a small child wandering upon the vast shores of knowledge, every now and then finding a small, bright pebble to be contented with ~ Plato
It is believed that long ago humans sensed there was a power trapped in the stones which surrounded them. The ancient civilization of Atlantis is said to have been a technologically developed civilization which caused its own destruction some 40 000 years ago by the misuse of powerful crystals, and that our use of crystals in technology is in its infancy by comparison.
I have programmed some of my crystals in order that they work effectively for me personally. To do so, I cleanse them and then hold them individually in my hand, whilst directing my intention to the stone asking it to help me with specific tasks.
Regular cleansing of our crystals is a must because they absorb so much energetically, particularly in a psychic's working environment. In order to remove any past influences, especially negative ones, I like to immerse mine in salt water overnight and allow them to dry naturally when removed. Other methods are simple too, like placing them in direct sunlight for two to three days. There are also more intense ritualistic sequences used by some crystal owners, particularly if they feel the stones have absorbed very negative energies.
Do stones really vanish? Some of mine have, and all I can say is that they must have finished their job when they disappear without a trace, never to be seen again.

About The Author: Shani

Shani is a qualified practitioner in Reiki, aromatherapy, reflexology, body spin, and animal telepathy who received psychic development training at the Arthur Findlay College of Psychic Research in England. A published writer, her articles and predictions have appeared in several respected magazines and on psychic websites, and she has read for many celebrities and even heads of state in Africa. Because of her empathy, people find it easy to connect with her. Every month, she attends a psychic circle and the information that comes through from Spirit never ceases to amaze everyone present. Though she was born in London, Shani has traveled the globe and has studied the art of African Mysticism, bringing her unique flavor to those seeking her incredible talents. What she has taken away from her many travels abroad, is that there is always a sort of longing clients have to be connected to the source of their being. Get a reading with Shani at PsychicAccess.com.