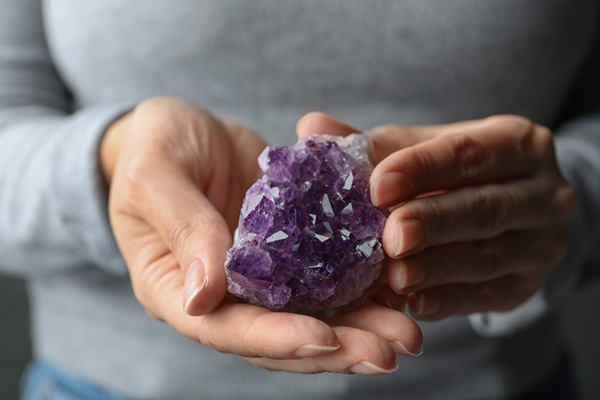 The calming and spiritually protective amethyst has a mystical energy about it, and the beautiful coloring makes this purple quartz even more exceptional. Amethyst is a violet variety of quartz. It is formed in the presence of manganese and is found in Brazil, Uruguay, South Africa, Madagascar and India.
Just holding a piece of Amethyst helps raise your vibration, putting you into a calmer and accepting frame of mind. It is believed that its very essence heals on the metaphysical and physical levels of our being.
Experts in crystal healing teach that amethyst crystals are the foremost stones of the violet flame. The use of the violet flame which emanates from this exquisite stone is overseen by the ascended master St. Germain. The violet flame helps transmute negative energies in the body and creates harmony. Wearing amethyst jewelry is a powerful way to absorb the benefits of this magical stone.
In many cultures, a large number of miraculous powers are attributed to amethyst, and it has been said to bring victory in war and in hunting, to drive out evil spirits, to boost the intellect, and even to protect crops against pests, particularly locusts. It is not unusual to see amethyst sewn into the special robes of priests and nobility.
The origin of its name is Greek and means 'prevention from drunkenness'. It is said to help overcome any addictive compulsive disorders including alcoholism, overeating and other addictions. Ancient Greeks wore amethyst and drank wine from amethyst cups to protect them from intoxication. For myself, as a recovering addict, this crystal is a 'have-to-have' assistant in my collection of crystals!