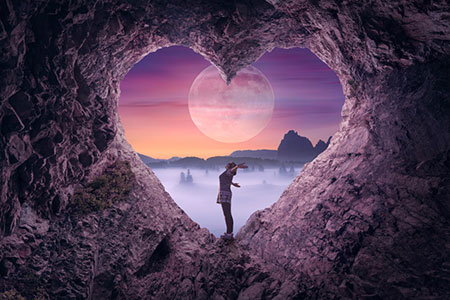 I woke up from a powerful dream this morning. I was on the top floor of a high-rise building that had been struck by lightning. The building slowly started to move, to quake. I could see from the window neighboring structures being destroyed, and I sensed my own building's collapse was imminent…with me inside it!
Could I make it down the stairs in time? I was about to try, but my exit was delayed by a pair of sparkling opal earrings that I simply had to take with me! But I could not manage to hold onto them for long. They kept slipping out of my hand, while the apocalypse was happening all around me.
I just had to bring the blingy earbobs – I am a Taurus, after all.
Then, as I gazed at the two little treasures, a stark truth hit me. I suddenly realized these material things do not matter in life and it shouldn't delay me further. I also understood for some reason that the earrings now belonged to someone else and would bring them much joy in future. So, I returned the jewelry to the table where I found it…just before my building finally came crashing down.
Certainly, a lot to unpack. Temptation, ownership, materialism, impermanence, spiritual values, mortality, life goals.
But let's get back to the dream.
Somehow, incredulously, like in a Marvel Comics adventure, I landed outside, unharmed. Then I found myself on a raft, with my immediate family all suddenly with me. We were rapidly floating together down a river.
Then it was time for us to get off, before we got hurt, but we were reluctant to do so. Suddenly, there was a friendly tribe of indigenous people on the bank of the river, expectantly waiting for us by a wall. So, we felt safe to dive off the raft, and we did so. The tribe members showed us the way through a hidden opening in the wall, and we all made it out safely to someplace new!