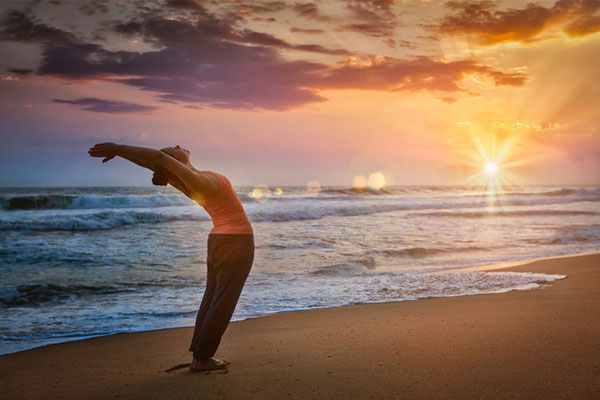 Many people have an energy blockage or imbalance with their heart chakra, because this is where we hold our emotional wounds.
The heart chakra is where we hold on to every insult or criticism from our childhood. The unbalanced heart chakra can store the energy of every rejection, anxious moment, humiliation, and fear from our teen years, as well as every break-up and every disappointment in our lifetime.
Heartbreak is a very real phenomenon. For example, sometimes when the life partner of an elderly person passes away, they will also pass from a heart attack soon after. It is tragic evidence of a disconnection of the life-long energy bond between two hearts.
Blockage in the heart chakra can also cause various health problems, including heart palpitations, irregular heartbeat, breathing problems, and problems with the thyroid, back, neck and shoulders.
The sun salutation is a choreographed set of yoga exercises that can be used to open the heart chakra and move energy throughout the entire body. Lifting your heart chakra pulls energy into the center.
Stand with your feet roughly one foot part, feet parallel. Tighten your buttocks and push your pelvis forward. Contract your abdominal muscles.
Reach your arms out to the side and slowly move them upward, as if you re scooping energy upward. Keep the arms perfectly straight, with elbows locked.
Bring your hands over your head into a prayer position, with the arms as straight as you can get them. Visualize that energy you scooped up pulsing between your hands. Then, keeping the hands connected in prayer, bring your hands down to your heart and feel that energy you 'captured' filling your heart chakra.  Do this over and over as many times as you want.