feathers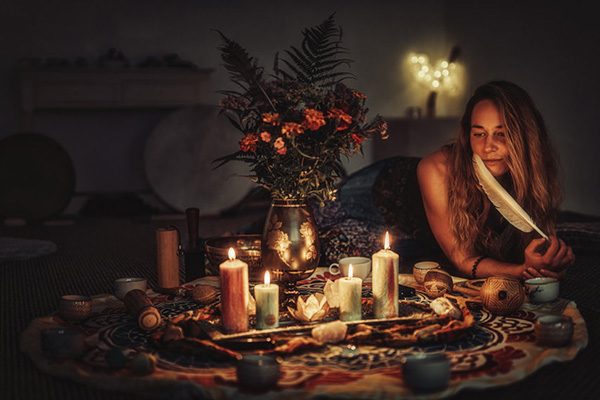 Rituals, rites and ceremonies are the oldest forms of spiritual practice and essential aspects of all religions and belief systems. A ritual is a meaningful or symbolic action or series of actions that has a standardized format or sequence and can therefore be repeated in exactly the same way by individuals, groups or even communities.
The metaphysical energy generated when we focus our intent using symbols, tokens and metaphoric activities during a ritual that has special meaning for us personally can be highly transformative! Whether you practice ritual in a group or solo, it can supercharge your manifesting ability and aid in any mental, physical, emotional, and spiritual healing processes you may be going through.
When some people hear the word 'ritual,' they tend to imagine darkened, smoke-filled rooms with mysterious people in long robes, chanting strange refrains perhaps, all choreographed with everyone knowing their roles. I'm sure there are people who practice rituals in this way and elements like incense and chanting can indeed be party of a rite or ceremony. But a ritual can also be more simply crafted in a way to fit into a modern lifestyle and everyday spiritual practice.
In my own practice, I created a little 'altar' for myself. A small sacred space where I have placed a few candles, some incense, crystals, feathers and a few other symbolic tokens which hold special meaning for me. I also added a picture of my mother and a statue of an angel given to me when my grandpa passed away. In this way I created a sacred space that has deep meaning for me personally and brings me into a spiritual mindset.
You don't need to have a lot of room for this in your home. So, you can even create a small sacred space for yourself on the corner of a dresser or table top. As my practice has evolved, I now find that any spare surface or quiet corner in the places where I have lived can become a nook for little spiritual treasures that I find during my adventures. Once you start creating a sacred space, the Universe will send you little gifts to help you along.