feathers
Published
April 13, 2020
|
By
Shani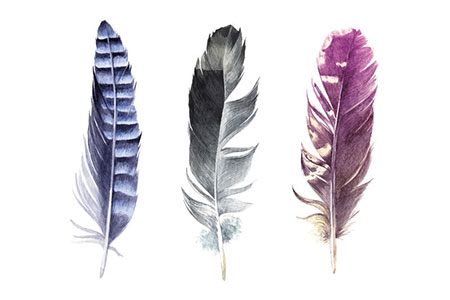 I attended an angel reading workshop some years ago, during which our mentor said, "When you find a white feather in an unusual place, it's a calling card from the Angels. Just know that your prayers have been heard and when spirit feels that the timing is right, your prayers will be answered".
A client of Native American heritage recently explained to me how her ancestors used to make their headdresses with feathers. The reason for this is when you look at a feather there is a hollow shaft running up its center.
She says when the wearer of such a feather headdress prays, it is believed there is a direct connection to spirit, because the prayers travel up that shaft to the Divine. And similarly, blessings are sent down from the Divine via the feather's shaft.
Feather symbolism can be found in many spiritual traditions. For example, it is an ancient Celtic belief that a feathered cloak enables one to visit other worlds with speed.
Many of my clients have the experience of finding feathers. These feathers are signs from spirit and sometimes appear in a place where one wouldn't expect a bird could have possibly been! The color of the feathers we find is also believed to have a certain spiritual or metaphysical meaning.
Posted in

Afterlife, Angels, Divination, Metaphysics, Paranormal Phenomena, Shamanism, Spirit Guides, Spirituality
|
Tagged

Afterlife, ancestors, angel readings, Angels, beliefs, birds, Celtic, colors, Divination, Divine, feathers, guardian angel, guidance, Metaphysics, prayer, psychic awareness, shaman, shamanism, signals, signs, spirit communication, Spirit Guides, spiritual guidance, spiritual messages, spiritual practice, spiritual teachings, Spirituality, symbolism, synchronicity, traditions, visitations
|
Leave a comment