dowsing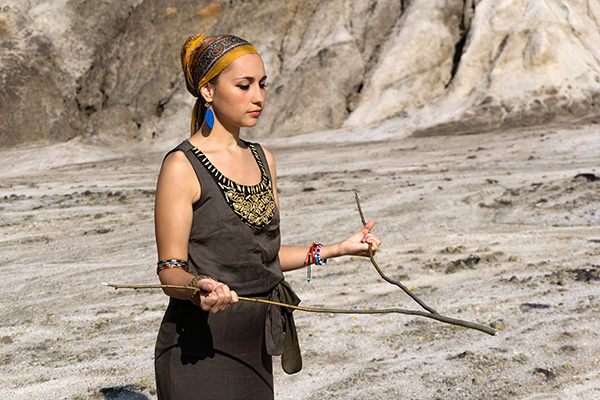 I have always loved working with my dowsing rods and have used them in various ways over many years. I have used dowsing, for example, to track down missing car keys, find lost jewelry, and locate various other household items. However, yesterday was a dowsing first for me.
I received a call from a friend whose husband had mysteriously lost his partial-denture plate. Apparently, he has the habit of frequently taking it out and then leaving it lying around in unusual places in their home. Of course, it irritates my friend, both from an aesthetic and hygienic point of view, but she has never been able to get him to be more conscientious with his false teeth!
Well, yesterday, his dentures were nowhere to be found. They had searched everywhere inside the house, until their four-month-old terrier-mix puppy sauntered in with soil all over his face. It was obvious that he had recently buried something.
The search for the missing teeth was thus taken outside to their large fenced off plot with its many olive trees and shrubs. The needle in the haystack was nowhere to be found. As a last resort, I was eventually called in to assist with my dowsing rods.
It took me about 20 minutes to locate the missing teeth. The dowsing rods took me directly to an area that was being prepared for planting. Once I reached the spot, all I had to do was sift through the soil with my fingers, and 'voila'…the missing teeth were restored to its rightful owner!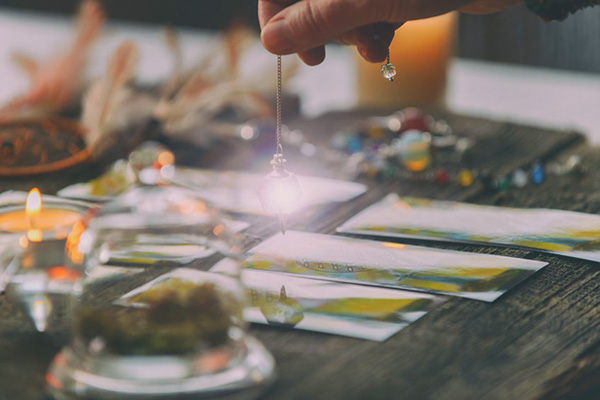 Every psychic is different on how they do readings using divination tools. I like to challenge myself and push the envelope. I have developed my own divination method by combining the use of a regular deck of playing cards and a pendulum to do psychic readings.
A pendulum is a weighted object at the end of a string or chain and it can be used for both dowsing and divination. The 'bob' of the pendulum is usually a crystal, piece of metal or some other gemstone. Pendulums have different sizes and shapes and they come in many colors. I use a quartz crystal pendulum with a 12 inch chain. Divination with a pendulum can be done in many different ways, including using charts. You can even use a simple chart you draw on a normal sheet of paper.
The idea to use a pendulum and deck of cards at the same time came to me many years back, when I felt the need for a new psychic challenge. When I do psychic readings with playing cards, I find it helps to open up my psychic abilities even more.
You may wonder how anyone can use an ordinary deck of playing cards, instead of the Tarot or oracle cards, to do readings. Well, I can feel the energy or 'vibes' better by using ordinary playing cards when I do a reading.
When I was younger I used to give readings to friends, and I discovered the cards give off a very strong energy for me. I am guided by spirit when I read, and when my psychic abilities kick in I feel a 'heat' or I feel my hand drawn to certain cards. I get an even more accurate result when I use a pendulum, instead of my hands.