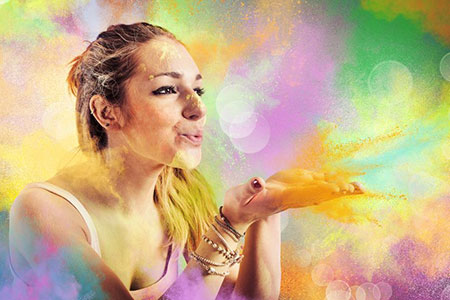 What a comfortable, easy life this would be if everyone could just feel like 'sunshine and rainbows' all the time. The truth is that the many of the most worthwhile things in life do not come from 'easy' and 'comfortable.' And when we suppress our true feelings, it is ultimately detrimental to our health body, mind, and spirit.
Revealing our true feelings does not come easily for many of us. I am not trying to make up an excuse, but I just was not brought up that way. My parents' generation were masters of the art of concealing their true feelings, good or bad. When I am doing a mediumship reading, and a departed parent or grandparent shows up, they often say things like, "I wish I told you more often how much I love you."
I could count on one hand the moments in my childhood that I can remember my parents showing affection for each other in front of us children. Those of us who had been brought up in such a stoic family environment, tend to struggle when are encouraged to express our deepest emotions. As an adult, I do however see the bigger picture today. And I do feel it is necessary to express one's feelings in a considerate and healthy way.
In my family my parents also never argued in front of us kids. My dad just gave my mom the silent treatment. We grew up thinking he was just be the 'strong silent type.' Consequently, I felt that this was what communication in a marriage should be like.
Of course, reality hit me badly with my first marriage, when my ex-husband and I had our first serious argument! I thought it meant the marriage was now over, because I had no coping skills or frame of reference for this kind of authentic self-expression in a relationship. I also had no clue how to have a good, healthy argument.