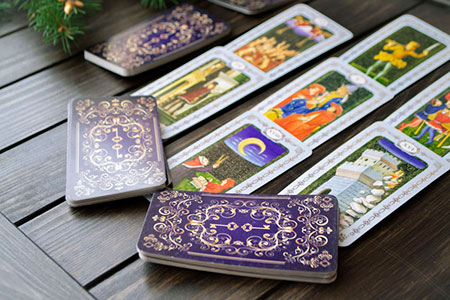 Mysterious, symbolic and highly energetic, the Tarot is a high vibrational tool that can help us explore the deeper meaning behind the events of our daily lives, and the influence of Spirit in our earthly existence. The Tarot especially offers guidance in situations where may feel lost or confused, and it serves as a mystical bridge between our physical reality and the metaphysical realm. The cards have their own energy, a high vibrational frequency, which Spirit uses to communicate messages of guidance, encouragement, insight and caution.
Every Tarot reader has their own set of spiritual gifts and psychic abilities, and therefore we tend to each develop our own reading style accordingly. In my own readings, I find that Spirit most often seeks to illuminate areas in our lives where changes and healing may be needed, in order to bring about the most beneficial future outcomes. This can be anything from the need to shift one's perspective, to the need to let go, or sometimes the need to simply accept things as they are.
Ultimately, I find Spirit uses the Tarot to get us 'unstuck,' so we get back in the flow. When we are in the flow, or in alignment, we are creating with the Universe, instead of creating resistance. Only then are we truly moving toward our highest good and the fulfillment of our greatest potential.
The Tarot is a conduit for communication with our guides and our higher self, through which we can gain a deeper understanding of the soul lessons and the magic happening in our lives.
From the physical 'self' perspective of the human ego, we often cannot see situations for what they really are. But our higher self understands the deeper meaning and purpose, and wants to lovingly guide us to a more joyful, peaceful and fulfilling existence.
Sometimes we can be very resistant when unwanted events shake up our lives. Typically, when difficulties arise, we get swept up in the drama of the situation, and allow ourselves to act from this highly-charged emotional state. In such times of trial, we can use the Tarot to take a step back and look at the situation from a wider lens, and receive guidance on the matter directly from Spirit.