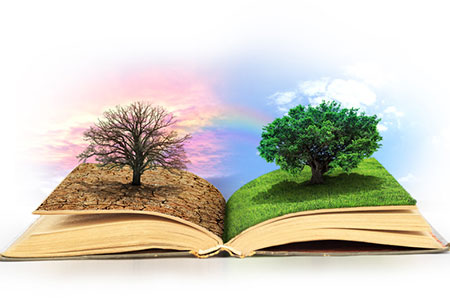 The annual seasons profoundly affect perennial trees. Each year many species of perennial change color, release their leaves, go dormant, and then come back to life in the spring with new growth.
As humans we could learn a lot from these trees. Firstly, they are naturally in tune with the seasons. They can ebb and flow with the natural order of things.  For a season their leaves will gather up energy from the sun for growth.  They bask in the light and find nourishment. And they can do this because of their ability to release the old when the time comes.
There are times in our lives when we also need to release the old things from the past.  All our life experiences have natural course and expiry date to them.  All our relationships in this physical life are also temporary experiences. Knowing this allows us to be in the flow with the cycles of life and the afterlife.
Too often we resolutely cling to the past, which causes us to feel stuck or keeps us from developing the types of relationships and experiences we truly want.  If the trees were to hold on to their old dead leaves, there would be no room nor energy for further growth. It would be impossible for them to thrive and be nourished by the sun.
There is also no way for trees to perpetually grow. One time I planted a tree late in the season. I gave it lots of nourishment, but over the winter it died off. By fertilizing the tree, I was creating a condition that would not allow it to survive. The fall is when trees release their leaves so the wood can harden off.
Too often people want to run to the next experience, and the next experience. Or they they try to make an experience last indefinitely. They want to make the 'summer' of their peak human experiences last forever. They never give themselves the opportunity to let go and properly grieve what has been, in order to recenter and become stable and energized for the next spring.
It is important for us to acknowledge our actual life experiences and move through the winter seasons in a way that prepares us for the next season. There is a temptation to just keep running to the next experience or next relationship to satiate a previous painful experience. However, in doing so we create situations that are toxic and unsustainable.