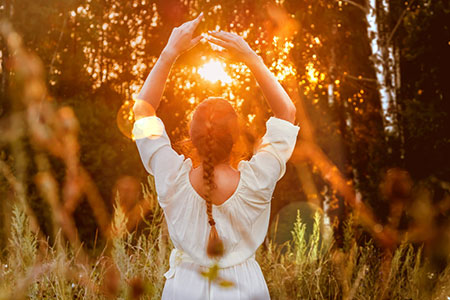 Autumn always awakens my awareness of transitions. Not only does the entire scenery change color, but each individual leaf on every tree is in a constant shift of shades of greens, golds, yellows, oranges, and reds. With every shifting shade and combination of them, the pattern of the palette continuously alters too.
Then, of course, there is the falling of the leaves – the gradual transition from tree to ground, from full foliage to bareness in various new measures day by day. The rise and set of the sun, and the length of the night and light incrementally inch through their own thresholds as well.
Like the changing season, life is full of transitions. From the moment the soul enters the womb, an endless sequence of them begins. The body develops in a rapid succession of changes, then carries the soul from womb to world.
In the world, the embodied soul then undergoes transition through various ages and stages, growing from infant to toddler to child to adolescent to adult, until gradually winding down to leave the body behind and proceed to the next one or world.
In between, you and I – the embodied souls – may face a multitude of additional transitions in relationships, careers, residences, levels of consciousness, and more. Such transitions – even the best of them – are not easy. They naturally incorporate intervals of instability in the liminal spaces between here and there. Transitions entail shedding, releasing, letting go of the old that was, and then birthing and rebirthing the next and new phase that will be. They empty us out and fill us up, again and again. Transitions are not easy; they may even make us feel queasy!
So, how can we move through the endless array of life's transitions gracefully? As with all things, there are probably as many ways as there is individuality among people. What I share are simply some of the ones I have found especially helpful.