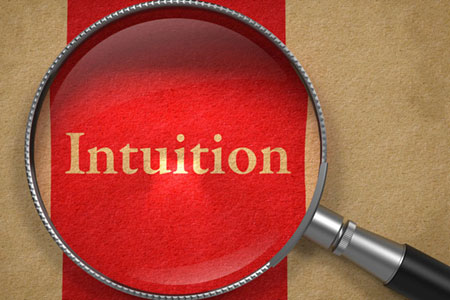 Is this really my intuition, or is it just my imagination? We often ask ourselves this particular question. I was having lunch with an old friend earlier today, and we were talking about exactly this.
We have known each other for over 25 years, and both had a government job. Reconnecting with her today was a special treat. I always thought very highly of her, and always sensed she also had a 'knowing.' The interesting part is, she did not believe she had a knowing. Yet, we spoke about 'having a feeling' before something violent happened. That was intuition!
I asked her, "When you drove into the parking lot at work, did you feel it, did you know it then?"
"Yes, definitely," she said, laughing. "I just thought I was crazy back then and dismissed it, until four hours later, when we were cleaning up the mess…"
In my spiritual work, I am often asked if there is an easy way one can differentiate between your mind and your gut feelings.  I always say the first reaction is almost always the right answer.  My friend and I also spoke about that today.
How do you spot the difference? Let's say you have an issue with a fellow employee, for example. You don't care much for them, or trust them, so if they approach you with a situation you immediately go to a place of disbelief and suspicion. You have a preconceived notion that whatever he presents you with is probably not going to be the truth.