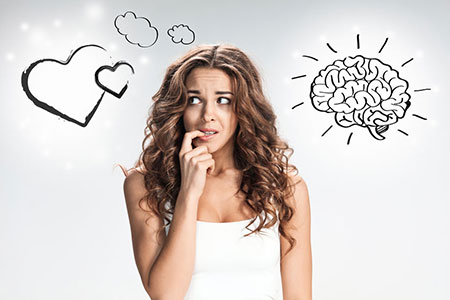 As a practicing astrologer, I often assist clients who are facing the head versus heart dilemma. Should they go with what their head is telling them, or should they follow their heart?
"My head tells me he's so perfect for me. He is my dream guy on paper, ticks every box. He has a successful career, earns a solid income. He is someone my kids would love, the male role-model they so desperately need," a client recently explained.
"But my heart feels so hesitant, like its beating for someone else I haven't met yet. He is a great guy, but there no butterflies. It doesn't make sense. I don't understand why my heart is yearning for someone different?" she lamented.
"I can't afford to be picky and my friends and family tell me I'm crazy to even question this incredible guy who seems to tick all the right boxes, but doesn't put a flutter in my heart!"
The question is indeed, why would one trust an illogical feeling that can't be quantified and measured using the neat little pros and cons list of the mind? In my Astrology practice, I have see this conundrum play out many times.
Interestingly, I find this vexing situation is often related to a Mercury Square Moon aspect in someone's chart. Such a person will often take one side over the other, usually the head over the heart, and this habitual battle can result in a lifelong pattern of bad choices.
Culturally we've also been conditioned to always choose reason over feelings. And what others think often also factors too highly in a personal choice that's best made selfishly. In my opinion, relationships are one of the few areas in life where we get to be selfish, because if we choose someone who will not make us happy, everyone will suffer in the end.
We are often told 'trust our gut' for good reason. Your intuition or inner guidance system knows far more than you do! But like a muscle, we must build it up, we must work it, flex it, to clearly register the signals it's sending us.