incantation
Wouldn't it be wonderful to constantly have your prayers and blessings emanating into Universe? Well, you actually can achieve this by hanging a Tibetan prayer flag. Also known as lungta and darchor prayer flags, these beautiful, colorful flags are traditionally found festooned along the Himalayan trails. They are believed to bring peace, prosperity and good fortune to all.
Although it is a Buddhist tradition, you don't have to be a practicing Buddhist to hang your own prayer flags. Anyone can use them with the intent to spread positivity and blessings in the wind, far and wide.
One of the most beautiful aspects of Tibetan prayer flags is that they are unique in design, and calming to look at. Each flag carries a variety of prayers, incantations and sacred symbols that represent specific blessings to be carried by the wind. Each set of flags has several different prayers written on it – one even has a special prayer specifically for the person who is hanging the flag!
A set of lungta flags feature five separate rectangles that represent the five elements, to create energy and a strong connection to the Universe. They start from the top with a blue flag representing sky or space, then a white flag representing air or wind, a red flag representing fire, followed by a green flag representing water, and lastly a yellow flag representing earth.
Most often hung vertically, with the blue (air flag) at the top and the yellow (earth flag) at the bottom, these flags aim to bring good fortune, blessings of opportunities, abundance and prosperity, inner strength, compassion, and wisdom to all.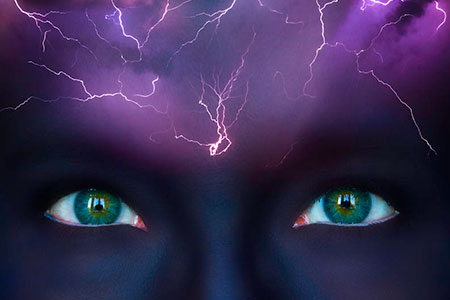 It is important to consider one's 'vibes' and intentions, because is an essential aspect of understanding intuition, manifesting, destiny and predicting the future. The momentum of any person's life is consistent with the vibrations they are putting out into the Universe. So, when an intuitive or psychic is looking at your situation, it is often based not only on your existing vibration, but often Spirit will also reveal a potential that could shift the vibe within a situation or change the future outcome.
Psychics, intuitives and diviners do not create your future, but they can explore and reveal the potential and energy within a situation, in order to predict the likelihood and probability of potential outcomes. Although it does not happen very frequently, I sometimes have clients approach predictions during a reading with a cynical mentality of 'it will never happen.' And, I have also heard Spirit respond very bluntly to such skeptical clients: "Then it won't."
The mind matters when it comes to our lives and situations. I don't believe that Spirit deals in false hope, but I do know from experience that the mind is the catalyst for our experiences. Therefore, vibes are important. Our vibes show us what we are actively engaging in and what we can expect for the future. At times it can even be best to stop, or satiate the more challenging vibes we have to a situation, by disconnecting from the story of the situation entirely.