Never Dabble With The Dark Side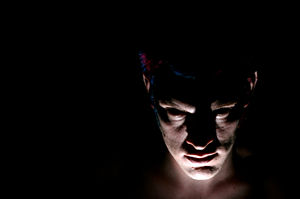 I have been studying all things metaphysical since I was a teenager, and I have found things that work for me, and some things that don't work. One of the concepts that I have found to be very true in the metaphysical realm is the power of prayer. There is no power greater.
I became spiritually aware around the age of 21, if my memory serves me correctly. It was when I had the dream of a dolphin. The dream was about the recently deceased brother of my boyfriend at the time. He came to me in a dream in the form of a white dolphin and he was trying to get into my room. I could see this white dolphin peering in my window! Many messages came to me from this dream dolphin. Kevin was a marine biologist at the time of his death and he was making important scientific discoveries about dolphins. I feel at the time of his death he was given that which he always desired – to get into the mind of a dolphin. Through this dream experience I learned many things.
Never let a man imagine that he can pursue a good end by evil means, without sinning against his own soul. The evil effect on himself is certain ~ Robert Southey
One thing I learned was not to dabble with the dark side. Don't ever play with the Ouija, because it is a portal to the dark realms and lower entities. It will only start a domino effect in your life, exposing you to the dark side and to negative energies. It may become difficult for you to end this.
Also, never engage in the casting of spells or anything associated with such practices. There are much more powerful and uplifting ways to create good things in your life. I believe in positive affirmations and creative a visualization to manifest what you want in your life. I have seen the effects of the Law of Attraction in the lives of many people, including my own.
Sadly, I have also seen the lives of people that I cared about tragically destroyed, because of their dabbling with magick and spells.
Never open the door to a lesser evil, for other and greater ones invariably slink in after it ~ Baltasar Gracian
Do not confuse energy work with the evils of magick. For example, don't consider aromatherapy, energy healing or holding a rose quartz in your pocket to be magick or a dark practice, as these practices are of the Light and we are connected to these things naturally.
If anyone ever tells you that you have a spell around you, or that a hex or curse has been placed on you, be very wary and extremely skeptical. Seek advice elsewhere, because such things are not of the Light, neither is it from a Higher Power, which is what you want to deal with at all times.
Every time I get a new Tarot deck, for example, I bless it with praying over it, just like I do with my food before I eat it. I ask God and my higher consciousness and my guides to help me to use this for the betterment of man. I also ask that I be steered, as well as those I offer guidance to, towards the center, to God, the Light and the Truth.
The sad truth is that most evil is done by people who never make up their minds to be good or evil ~ Hannah Arendt
I feel strongly that messing with spells and voodoo and similar practices are from the lower realms. The lower energies from these realms seek opportunities to come in and seek out all they can influence, and destroy lives in the process. I have seen it go on with people I care about and I have often times tried to steer them in a different direction. Their desire for quick results may have given it to them for a moment, but it was not lasting, and neither was their lives ever the same again.
Please, be very mindful to always stay on the Path of Light and Love, as that is the power that will be everlasting and give you life after this, as energy never dies. I believe dabbling with dark energies, like spells, can put an end to the soul.
You may be thinking that a spell is just what you need to fix things in your life. Trust me; it is the darkness whispering in your ear. Don't listen. The truth will set you free, and you will have a higher vibration in the next life, if you still have things you need to work on.
About The Author: Moon Goddess

Moon Goddess is a third generation empathic healer and seer. She started to give healing readings to people more than 20 years ago. She has always been interested and studied all things metaphysical from a young age. Being hypersensitive she can feel and see things before they happen. Utilizing the Tarot, and with the help of her Guides, she is a source of support for many people all over the world. After he passed over, her grandfather kept his promise and came back to say goodbye and gave her the most amazing experience. Moon knows there truly is a Heaven, and it is wonderful! Sharing her experience has helped many people after they have lost someone, or anyone experiencing some form of grief. Get a reading with Moon Goddess now at PsychicAccess.com.


This site uses Akismet to reduce spam. Learn how your comment data is processed.