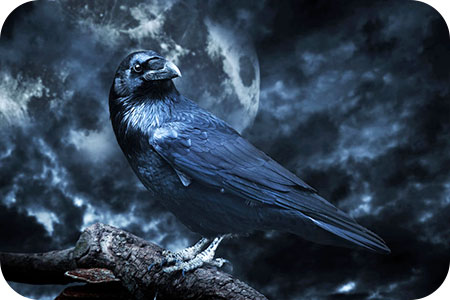 Crows often appear to me when I am about to make a significant change in my life. I recently moved to a nicer place, and a group of crows appeared outside my new home, signifying this was not the only change to come.
Crows also represents being adaptable, malleable and, of course, flexible. We are generally resistant to change, but change is the only constant in this life. When seeing crow in your personal surroundings, know it is time to change your thinking and perception about your current life circumstances. Sometimes we cannot see the forest beyond the trees.
Crow medicine teaches us to focus on the 'bigger picture.' Look at the whole story, instead of the worrying so much about the details.  Leave the details to the Universe. It usually does turn out better than we had imagined!
Birds also act as messengers from Heaven. A bird showing up unexpectedly in your life is perhaps a loved who has crossed over and is wanting your attention. I remember one time it was my great grandmother whom I inherited my psychic, mediumship and healing abilities from.
Posted in

Afterlife, Divination, Dreams, Intuition, Paranormal Phenomena, Shamanism, Spirit Guides
|
Tagged

animal medicine, beliefs, birds, change, death, guidance, gut feelings, inner guidance, Intuition, Native American, nature, omen, Paranormal Phenomena, predictions, premonition, prescience, presentiment, prophecies, protection techniques, self-delusion, shamanism, signals, signs, spiritual messages, supernatural, superstition, symbolism, traditions, transformation, truth
|
Leave a comment