Spirit Meets Us In The Middle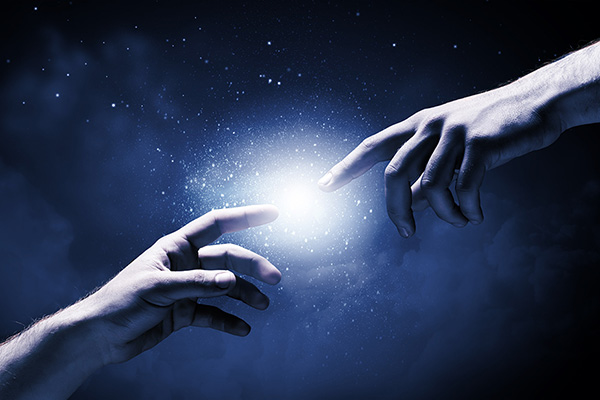 About three decades ago, a friend's father passed away. I had only met him once, and very briefly. Several months after his passing, he came to me in dream with an important message for my friend. I asked, why me? He explained that I was the only person in her life that he could reach.
Her father's telepathic communication was, however, coming in so fast and symbolically complex that I could not keep up with what he was saying. This is the nature of this world. The energy density here is so heavy and slow, while spirit energy is light, quick, and highly advanced.
To assist me with my understanding, and also help me remember his message later, he showed me in the dream how he was 'recording it as voicemail message.' This enabled my mind to slow the message down. I was able to replay it slowly at my level of human understanding.
I later relayed the 'decoded' message to my friend. He wanted her to know that he was aware that she had been suffering much grief after his passing, but that he wished for her to move on. "I am still with you and still love you, but it is time for you to start living your life to the fullest again," he said.
She was very grateful and relieved to receive his message. She cried and it clearly touched her. She then told me that she had attended a grief support group that same night I had the visitation dream. She had decided to give it a try, as she was struggling to process her loss and did not know how to move forward.
Visitation dreams are sometimes a welcome respite from longing or yearning for your loved one who has died. Whether you believe these dreams are real, from the divine, or something straight out of science-fiction – a visit from the afterlife can be healing to your soul ~ Alejandra Vasquez
Why did her father come to me in a dream, instead of directly to her? I saw that it was due to her religious beliefs. At the time she still believed that communicating with loved ones who have crossed over to the other side was sinful and unacceptable. Her energy field was therefore blocked to any kind of spirit communication.
My mediumship ability has since evolved considerably. I have over the years learned how to better use my gift and raise my vibration to better understand when spirit communicates with me. I have also discovered that the 'voicemail' symbolism in that dream represented something spirit always does when communicating with us. Spirit lowers and slows down their energy frequency to meet us in the middle, but to hear and understand them we must raise our own vibration to meet them halfway.

About The Author: Satya

Satya lives in Northern California and is a natural Clairvoyant, Empath, Conduit, teacher, author, animal lover, healer, Reiki Master and an advanced yoga instructor. She has provided valuable psychic assistance to Hollywood stars, athletes, and everyone else in-between. A multi-layered Intuitive, with many unique gifts at her disposal, she can give you a doorway into the past as well as a gateway to a happier future. With her long distance energy work, she provides healing for people and animals too! She instantly spots karmic connections from past lives that directly affect current situations, helping clients to move through them quickly. For accurate solutions on just about any pressing problem, you can find Satya at PsychicAccess.com.


This site uses Akismet to reduce spam. Learn how your comment data is processed.