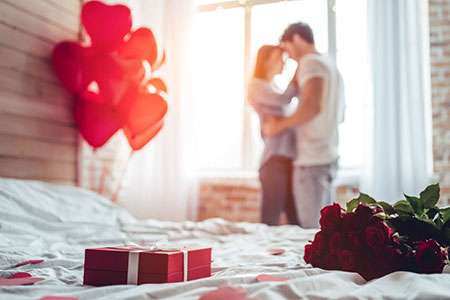 Did you know that the Valentine's Day that many people all over the world will be celebrating today, has its origins in pagan rituals of the past? This is in fact true of many of our modern holidays. But how did we get our modern day cards, cupids, and hearts?
In ancient Rome, the Festival of Lupercalia was annually celebrated on February 15th. As with similar Roman holidays, such as Ostara (Easter), this was a time to celebrate fertility and love. The deities honored were Lupercus, Patron of Shepherds; Juno, Goddess of Marriage; as well as Pan, a pastoral god who came to be regarded in Roman times as the representative of paganism and the personification of all nature.
In a festival custom that survives to this day in the form of valentine's cards, young men would randomly draw the names of eligible women from a jar or urn.  In the Middle Ages, Emperor Claudius II believed single men made better soldiers so he declared marriage illegal. As a concession, he encouraged temporary romances.
Drawing the name of a lady during the festival determined who a soldier's partner would be for that coming year. He would then wear her name on his sleeve for the rest of the festival. This gave rise to the saying "wearing your heart on your sleeve." Whether or not they also exchanged flowers, candy or gifts is uncertain.
It is also interesting to note that Cupid, the son of the love goddess Venus, was not originally linked specifically with this festival, even though he is associated with it today.Venus, it turns out, was particularly fond of red roses and this custom still survives after 2,000 years. As for the symbolism of the heart, this is also an ancient image found across many cultures, including Greco-Roman, Indian, and Meso-American. Instead of romantic love, it was often used to represent rebirth, purity, and spiritual love.