The Astrological Significance Of The Pleiades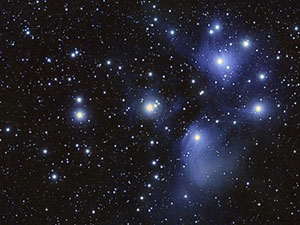 I recently watched this amazing dance performance in a YouTube video which reminded me of special set of stars, and the power they hold in determining our path through life. The dance, titled Pleiades, was inspired by the grouping of stars by the same name. Not many people know that the Pleiades are actually significant in astrological terms.
Pleiades means "Seven Sisters," and it refers to a star cluster that exists on the shoulder of Taurus (the bull) located at 00°00′ Gemini. But to understand this blog article you do not need to understand the technical dynamics of the star positioning.
In folk understanding of the Seven Stars this particular grouping of stars is often associated with homosexuality. My personal viewpoint is that they are not associated with being gay, but may very well be a contributing factor to being gay.  As far as I am concerned, this particular grouping of stars is more associated with creativity, vision, passion, and often times intuitive understanding.
Each star is a mirror reflecting the truth inside you ~ Aberjhani
That's all well and good, but I am sure you are now probably asking, "What does it mean for me?" Well, if the position of Pleiades and its principal star Alcyone in your astrological birth chart is:
Rising, it means that you are likely artistic and intuitive. This can also show up in a negative way through criticism.
Mid-heaven, you are a person with strong vision about your personal future, as well as the potential of others. You have a desire to do the right thing, but be careful not to become too dogmatic about your path or the path of others.
Sun, you are a visionary. You are a big picture person, and can see things that others cannot see. Watch yourself though, because the overly confident visionary can promote arrogance.
Moon, you are a subculture fanatic. This means that you appreciate and find value in countercultural or subculture expressions. This is great, but be careful not to deviate so far that you isolate yourself from those you love.
Dwell on the beauty of life. Watch the stars, and see yourself running with them ~ Marcus Aurelius
Mercury, you love the light, and are disheartened by the darker side of the human nature. You have an empathic and healing nature, and have a true desire to bring love and harmony to every situation. The biggest exhortation I can give with this one is to seek consciousness, or your empathic side may lead to depressive states.
Venus, you find value in ritual and patterns in life. You can see value in patterns, however it is important to make sure that your patterns do not overtake you and become obsessions or compulsions.
Mars, you are sensitive to social issues. You truly care about the personal well being of others, and desire change through social justice. It is important for you to recognize this about yourself so that you can promote social justice through the power of your conviction, rather than becoming a bleeding heart.
If you are interested in finding out the position of the "Seven Sisters" for you, and you do not already have a natal chart, consult one of the astrologers at Psychic Access.

About The Author: Cosmic Coach

Cosmic Coach (James) is a Christian Minister, a teacher and an Energy Guide. He has been seeing and talking with Angels and Guides since he was 7. As a teen, it dawned on him the unique connection he had. He prayed for others at his family's Christian church, and received direct messages and healing energy from Spirit. As a young adult, he became ordained and is still attached to the Christian Church today. After mentoring with a remarkable psychic woman, he developed his own tools and began his full-time psychic practice. James has mastered many techniques in his psychic practice to connect with the unique heart center of each of his clients. He is a Reiki Master of many traditions, who is adept at crystal healing, card readings, and delivering detailed messages from Angels and Guides. James is always expanding the base of his knowledge to broaden his reach and serve as many clients as possible. To experience a unique reading personally designed for you, you can find Cosmic Coach at PsychicAccess.com.


2 Responses to The Astrological Significance Of The Pleiades