instincts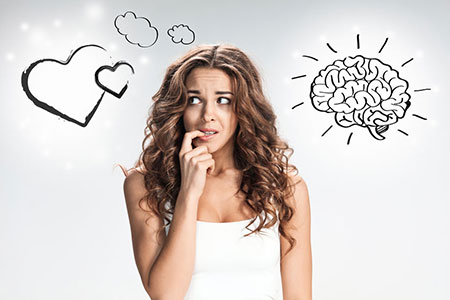 As a practicing astrologer, I often assist clients who are facing the head versus heart dilemma. Should they go with what their head is telling them, or should they follow their heart?
"My head tells me he's so perfect for me. He is my dream guy on paper, ticks every box. He has a successful career, earns a solid income. He is someone my kids would love, the male role-model they so desperately need," a client recently explained.
"But my heart feels so hesitant, like its beating for someone else I haven't met yet. He is a great guy, but there no butterflies. It doesn't make sense. I don't understand why my heart is yearning for someone different?" she lamented.
"I can't afford to be picky and my friends and family tell me I'm crazy to even question this incredible guy who seems to tick all the right boxes, but doesn't put a flutter in my heart!"
The question is indeed, why would one trust an illogical feeling that can't be quantified and measured using the neat little pros and cons list of the mind? In my Astrology practice, I have see this conundrum play out many times.
Interestingly, I find this vexing situation is often related to a Mercury Square Moon aspect in someone's chart. Such a person will often take one side over the other, usually the head over the heart, and this habitual battle can result in a lifelong pattern of bad choices.
Culturally we've also been conditioned to always choose reason over feelings. And what others think often also factors too highly in a personal choice that's best made selfishly. In my opinion, relationships are one of the few areas in life where we get to be selfish, because if we choose someone who will not make us happy, everyone will suffer in the end.
We are often told 'trust our gut' for good reason. Your intuition or inner guidance system knows far more than you do! But like a muscle, we must build it up, we must work it, flex it, to clearly register the signals it's sending us.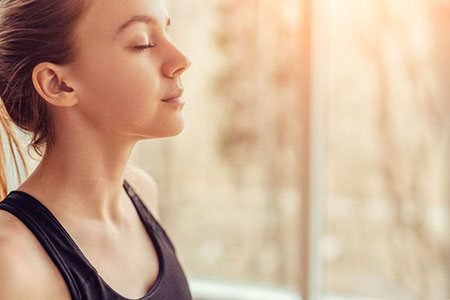 Have you ever heard your name, when no one else is in the room with you? Have you ever thought of someone unexpectedly, and have that person then suddenly show up a in person, or with a phone call, a text?
Have you ever had that eerie feeling in your gut, just knowing that something bad was about to happen? Have you ever spontaneously known the answer to a question that you were not supposed to know?
All these things are related to your intuition, or innate psychic ability. Every person has some level of psychic ability. We are all using it daily, but many are not consciously aware of it. Learning to tap into your psychic intuition more consciously is not too difficult, as long as you learn to trust where it is coming from.
Do this simple experiment. Just take a moment to ask a question. Sit quietly, close your eyes, and focus on your breathing. Then ask your question. Just one simple question. It can even be something you already know the answer to. Start with something like, "Is my name (fill in the blank)."
Relax and sense the answer. Do you feel the 'yes?' Typically, you might feel it in your gut (solar plexus), or in the area of your heart. It will not come from your brain, or your mind. It will be a sense or a feeling, not a thought. Of course, your mind already knows the answer, but you want to feel a resounding yes coming from your gut.
If you don't feel it right away, that's okay. Take the time to do it again later. Never move onto another question until you have sensed that knowing 'yes' from the first one. It takes practice and patience to get your energies in alignment.
When you finally do get that gut 'yes', then move onto another question. Initially it is best to stick with simple 'yes' or 'no' questions, that you already know the answers to, until you feel each answer coming from deep within. Do this quietly and slowly. It's not a race or contest.