Spirit's Calling Cards Are Everywhere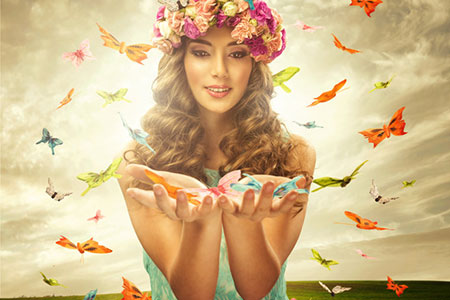 Both experienced and novice psychics will tell you the spirit realm is in constant contact with the physical world. Although spirit may not communicate in the way we do, their messages are constantly here for us to see, hear and feel – if we know how and where to look for it.
The spirit realm exists beyond our time and space, but spirit is still able to interact with us. Hollywood movies would have us believe they can make objects float through the air, but it's much more subtle than that.
Interference with electronic devices, such as clocks or laptops, is common when spirit is present. Take note if your computer seems stuck on a particular page or a clock stops at a certain time. Your spirit guardian may be sending an important message.
Static physical objects like family pictures may also change in the presence of a departed loved one. You may notice a photograph becoming blurrier or curling up on one side. Sometimes the frame is shifted or moved.
Take a walk outside every day. Are you seeing birds or butterflies? Both are messengers of spirits, so pay close attention to what you see, including their colors and patterns, and look up the meaning later. If you're lucky a butterfly may land on you. Up in the skies, cloud formations, rainbows, and falling stars are all associated with spiritual messages.
Psychic or intuitive experiences is another way spirits speak to us. Have you ever felt like you 'hear your name' being spoken or called, or 'feel the touch' of a hand on your shoulder, while you are alone in a room? This is a sure sign a spirit presence is nearby.
Setting the intention to be open to the signs is your best strategy for noticing them. While they may feel small and easy to dismiss at first, signs from the Other Side often increase in frequency and size when they are focused on and acknowledged ~ Rebecca Rosen
Other examples include smelling your grandmother's favorite perfume or catching a glimpse of your father in a crowded park. Some people also report sudden, inexplicable temperature drops in a room. This is one the movies do sometimes get right when it comes to spiritual visits! Same goes for that random song you hear on the radio at just the right time, or a bumper sticker on the car ahead of you in traffic. These little 'flashes' of spirit communication are meant to remind us that spirit is always around us and taking care of us.
The time when we are closest to the spiritual realm is during sleep. Our dreams carry important spirit messages and guidance. If you find it difficult remembering your dreams, keep a journal on your nightstand and write down or make drawing of whatever you can remember the moment you wake up. Patterns will start to emerge over time, and you'll have a better idea what your spirit guardians are saying.
Spiritual messages are like radio waves or WiFi signals. Unless we're tuned in, they may seem absent. But when we tune in on our own 'receiver,' the messages come in loud and clear. Our spirit guardians, including our departed loved ones, speak to us all the time. They want to support, guide and protect us. It's our job to find the best ways to listen and understand.

About The Author: Mystic Shelley

Mystic Shelley is a five-star psychic, Reiki healer, clairvoyant and empathic reader. She offers her clients honest answers about past, present and future events with the help of her trusted guides. She reads in the area of love, relationships, career, money and all matters of life. Mystic Shelley was born with talents that would later mark her as a gifted psychic, but she chose not to embrace them early on. In her 30's, a not-so-chance meeting with a celebrated psychic set her on a course that awakened her gifts. Born with the gifts of clairvoyance and empathy, her psychic mentor helped her to expand those abilities, taking her talents to the next level. With experience came proficiency and today she has a growing list of devoted clients who sing her praises. In addition, she's also actively assisted other psychics to open up to their abilities. If you are looking for direct and honest answers get a reading with Mystic Shelley now at PsychicAccess.com


This site uses Akismet to reduce spam. Learn how your comment data is processed.