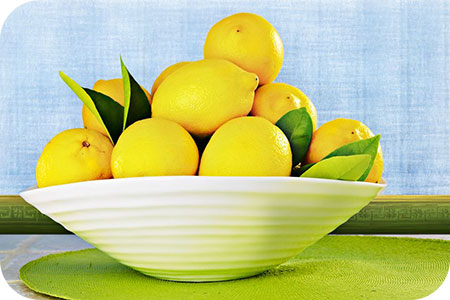 You will always find a bowl filled with exactly nine lemons in the center of my kitchen island. It is a labor of love keeping that bowl filled to this exact number, but the happiness which fills my soul with just a quick glance at them, makes all the effort worthwhile – because I know they are doing so much for me physically, mentally and emotionally.
So, why lemons and why exactly nine? In Feng Shui, lemons are believed to help clear away bad karma and their bright yellow color is a symbol of optimism and happiness. Also, in Feng Shui, the number nine is considered to be the luckiest, as it represents wealth, accomplishment, and attaining personal goals. Why would I not want to welcome these wonderful attributes into my home with such a gift from nature?
I love the pop of color those nine lemons bring to my home and they have actually become a permanent part of the decor. Of course, it does help that I happen to have a large lemon tree in my backyard. From December to April lemons are available in abundance here in Arizona!
Lemons are also a great source of nutrition. They are a natural antioxidant and great source of Vitamin C. Lemons helps to detoxify the body and clear away negative energies, to bring balance to your health and your soul. They also create a positive, uplifting environment.