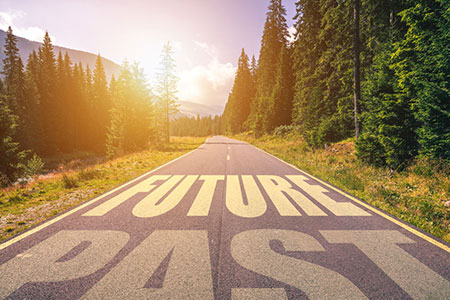 Accepting the past, and letting it go, is often one of the most challenging issues that come up in the readings I do for clients. When things are not always going as they expect it to go in their lives, it is usually because the client is still stuck in the past, and unable to move forward.
The human body was made to walk forward, just like trains, boats and planes are designed to propel themselves forward. The human mind and spirit is designed to do the same. We are meant to move forward, learning, growing, expanding and evolving into the future.
The human body has eyes in the front of the skull, not in the back. We are meant to look forward, not backwards. The human body can walk backwards, if it absolutely has to, but it's designed to be bi-regular in a forward direction.
But, if you are holding on to the past, or not willing to see it as being in the past, your subconscious mind and your soul remains in limbo. The greatest thing about the past is that we can learn from it, and observe what and how it affects us in the now. We also have the unique opportunity to change our outlook or approach to the present, based on the lessons of the past.
The greatest gift the human mind has is the ability to shift our perceptions, learn from our life experiences, and expand our horizons. We are able to examine how every past experience or circumstance affects our journey in the present, and we can also choose how we will perceive and acknowledge it as we move forward on our path.