Letting The Past Go…So You Can Go Forward!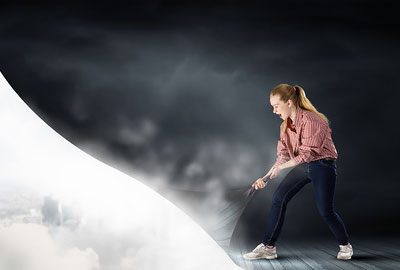 Most people who set New Year's resolutions don't keep them. Each year we tell ourselves that it's time to move on, to change, and to leave negative people and influences in the past, and yet we seldom stick to our resolve. Is it possible to finally let go of things that hold us back? Yes, it is!
The first step we can take is to be fully honest about what is holding us back, and why it's so difficult to let go. This is best done with the help of a mentor, such as a counselor or trusted friend, who will listen objectively. Until we have a true understanding of all our 'baggage' and our own part in it, it will never go away.
We also must be gentle and accepting when traveling this path. The past can never be undone, but it can be learned from, and it can help us walk into a better future.
Hope smiles from the threshold of the year to come, Whispering 'it will be happier ~ Alfred Tennyson
I'm sure you have heard the saying, "Insanity is doing the same thing over and over, expecting different results every time." It's fully within our power to change negative thinking patterns and habits. Good habits take at least a month to wire themselves into our brains. Start making affirmations, practicing better self-care, and stop obsessing over things you can't change or control. As time passes you'll find yourself able to make better decisions that aren't colored by the past.
It is possible to get rid of unhealthy behaviors, objects, and people in a productive way. Take a critical inventory of who, and what, you really need in your life, and whether they are a positive influence. If they're not, it might be time to move on.
An often overlooked part of moving onward is forgiveness…of yourself, as well as of others. No one is perfect and everyone alive has been wronged, as well as wronged someone else. The best thing we can do when it comes to harmful words and actions is learn from them. Everything we ever experience has meaning, even the times when we feel the lowest. As we forgive, the pain associated with past wrongs will begin to dissipate and it's easier to walk forward without all that baggage weighing us down. We might even find that a broken relationship can be mended.
Each year's regrets are envelopes in which messages of hope are found for the New Year ~ John R. Dallas Jr.
The most effective way to let go of the past is by simply learning to live in the present. Each day brings new opportunities and the chance to create a better life. Positive thoughts and actions will bring more positivity to us, and the same is true of negativity. So, be constantly mindful!
With a New Year ahead, and 2016 having been a difficult year for so many, it's the perfect chance to discover a new person beneath all the baggage. Anger, hurt, spite, and envy can be replaced with serenity, joy, passion, and love. It's time to stop carrying around all that 'junk' from the past and live for a brighter future. Once you get rid of it, you'll wonder why you ever bothered carrying it around.

About The Author: Mystic Shelley

Mystic Shelley is a Psychic Medium. She has been reading for over 15 years helping and guiding people. She uses my 8 spirit Guides during her readings. She reads in the area of love, relationships, career, money and all matters of love. She will give you only honest and direct answers. Get a reading with Mystic Shelley now at PsychicAccess.com