The Seven Signs Of Spiritual Awakening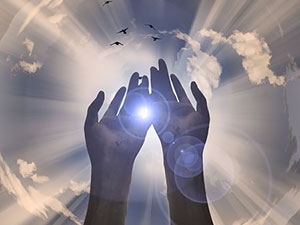 We live in a world that loves the idea of results. "I lost twenty pounds," we might say, or "I was chosen as employee of the month at work."
On the spiritual side of things, though, there is no such thing. The universe does not operate on human terms. Which is why, when it is time for us to experience spiritual awakening (also called Epiphany), it cannot be measured or quantified.
Also, when we do finally awaken, it is only the first step in a much longer journey. Think of it as that little ball of snow that starts rolling down a hill, only to become much larger as it goes.
This process does not have to be a painful or difficult one. In fact, when we do begin to awaken, we will start to see the falsehoods, illusions, and painful truths of our lives within the "real" or physical state, as opposed to those in the spiritual realm. It is like having our eyes opened much wider to a greater truth.
The essence of reality is that if we have the courage to change ours will be a reservoir of spiritual experiences that clothe our souls with flowers of love and gratitude ~ Micheal Teal
Thousands of years ago, the Greek philosopher Plato wrote about the metaphor of a person who had lived all his life in a dark cave, then went outside for the very first time. That is exactly what a spiritual awakening does for us. Like the man in that story, we continue to live in the brighter, more spiritual world. How do we do this?
1. We experience unconditional love for the first time. This is the way the Universe and our Higher Power love us. In most of the great spiritual traditions, love is the foundation of everything else. Once we learn to do this, we are well on our way to casting aside old hatred.
2. We learn what is truly real. Remember the popular The Matrix film series, in which the lead character discovers he has been living in a world of illusions? That is a good visual representation. Not only this, but we, like him, find out we are capable of so much more than we ever thought, because we discounted it as a fantasy!
3. We understand that we are complete and whole as we are. Modern society tries to tell us that we need to be happier, smarter, or more attractive. Once we begin to awaken, we will see that none of it is really necessary. The Universe has all the pieces in place for us already.
4. We start to experience moments of great serenity, peace and joy that stem from our practice of unconditional love. Remember, the Universe is like a mirror: it reflects back at us what we give to it.
It is not until you awaken and become fully present that you will realize that you have not been present. It is not until you awaken that you will realize you have been asleep, dreaming that you are awake ~ Leonard Jacobson
5. We find the presence of our Divinity and Higher Power in everything surrounding us. When we do this, we can also start to listen for the wisdom the Universe is imparting, even in the most everyday objects and situations.
6. We enable our energy centers or chakras to fully open and activate themselves. Imagine if we'd spent our lives breathing with only a fraction of our lung capacity, then were given back the full amount. Spiritually this is just what is happening.
7. We realize that we are spiritual beings present in human, physical bodies, within the Divine Scheme of the Eternal Universe.
Don't be afraid of a few setbacks as your physical and emotional self begin to awaken, despite the symptoms of fatigue or discomfort. As the fictional Jedi master Obi-wan Kenobi once advised, "You've taken your first step into a larger world!" Embrace it.

About The Author: Mystic Shelley

Mystic Shelley is a five-star psychic, Reiki healer, clairvoyant and empathic reader. She offers her clients honest answers about past, present and future events with the help of her trusted guides. She reads in the area of love, relationships, career, money and all matters of life. Mystic Shelley was born with talents that would later mark her as a gifted psychic, but she chose not to embrace them early on. In her 30's, a not-so-chance meeting with a celebrated psychic set her on a course that awakened her gifts. Born with the gifts of clairvoyance and empathy, her psychic mentor helped her to expand those abilities, taking her talents to the next level. With experience came proficiency and today she has a growing list of devoted clients who sing her praises. In addition, she's also actively assisted other psychics to open up to their abilities. If you are looking for direct and honest answers get a reading with Mystic Shelley now at PsychicAccess.com


One Response to The Seven Signs Of Spiritual Awakening