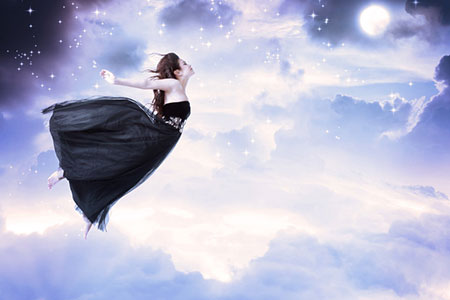 When we experience a lucid dream we are aware that we are dreaming. Dreamers also report that when they are having a lucid dream, they seem to be able to control the dream to some extent and they also tend to remember them better. In my experience it is like being half asleep and half awake. One time, I actually got up for a drink of water in the middle of a lucid dream, went back to bed, and continued my dream right where I left off!
For me lucid dreaming feels like being in the state of hypnosis – a 'light' state of hypnosis in which you have some control over how the session goes. You are in the dream state, but still aware of things around you. You are in a have heightened state of awareness.
Everyone I have discussed the subject of lucid dreaming with usually say they enjoy the experience. Some even say they wish they could stay is that frame of mind longer. When you lucid dream, write down your experience. Enjoy the movie of your mind.
The term 'lucid dream' was coined in 1913 by Dutch psychiatrist Frederik van Eeden in his article A Study of Dreams. It usually happens during rapid eye movement (REM) sleep. When we sleep cycle through phases of non-REM and REM. REM sleep happens about an hour to 90 minutes after we fall asleep and this is when we tend to have vivid dreams.
It is estimated that at last 50 percent of adults have experienced at least one lucid dream in their lifetime. I have them all the time. The first lucid dream I can remember was when I was about thirteen years old. I was having a lucid dream of talking to my dad. But unlike our normal waking interactions, this conversation went exactly as I wanted it to go. I asked if he would let me go to New York for three weeks, and he said yes!
Since that time, it became increasingly common for me to slip into the lucid dream state. For me it usually happens in the morning, as I am waking up, but then going halfway back to sleep.