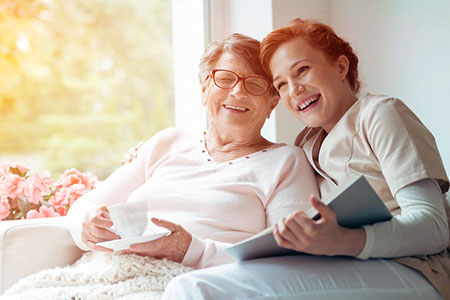 I remember what Grandma was wearing when she passed away. I also recall exactly what she said and everything else that happened that day, right down to the violets I picked in the backyard to place in her hand. She was wearing an oversized Winnie the Pooh T-shirt that could have been a night dress, I'm not sure. She had her red robe on and black slippers lined with greyish fluff.
She was told she was being taken to the nursing home, but it was actually hospice she would be going to. She could no longer walk and had fallen, and no one was able to pick her up. Not even myself. I wish I could, but I just was not able to.
I sensed she wasn't to going be with us very much, and I was very upset about it. But constantly having to give her blood transfusions and her being in so much pain, it was the right decision at the time. I have made peace with that now.
Settling her into the hospice, Grandma was adamant the bed be taken out, as it was unbearably uncomfortable. She kept saying, "I just want to go home and die. This is no way to live. I'm ready to go." She also told me, if I ever needed her after she had gone, all I would have to do is call her name, and she would be there for me. Grandma kept her promise to me. To this day I still feel her around me all the time, especially when I think of her and call her name.
I think the worst thing I ever experienced in my entire life was walking into that hospice room after she had passed and seeing her shell of a body. She was no longer there, obviously, but she was still around. I felt she was somewhere in the room looking at us and saying her goodbyes.
Pain had made her very bitter towards the end of her life. She wasn't herself anymore because she was on so many different strong medications and invasive treatments. I sensed that she longed to be with her departed husband and her dear mother who passed when she was just a young girl. Her mom was also a psychic and apparently really good with things like Numerology and dreaming lucky numbers. I loved hearing all those stories.