persistence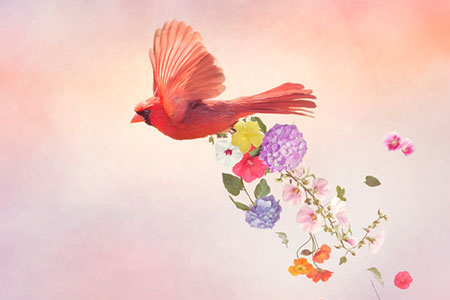 If you live in North America, you're probably familiar with the northern cardinal bird, also known as the redbird or red cardinal, commonly found across the continent. These bright red songbirds traditionally feature in the folklore, legends, and spiritual beliefs of various cultures.
The blood red coloring of this little bird's plumage fascinated our ancestors and it is considered to be symbolic of life and vitality. Interestingly, in the Christian tradition the blood of Christ is a central religious symbol and the red-robed senior clergy of the Catholic Church are also knows as Cardinals.
In indigenous cultures, the cardinal traditionally also represents ongoing life, as well as a strong, lasting relationship because cardinals are a monogamous bird species. The appearance of a red cardinal in your life may indicate a need to start something new or examine existing loyalties and obligations.
Their red feathers certainly stand out amid the more common brown and green found in most of nature. The female cardinal is a lighter shade of pink than the bright red male, which is less easy to see. When you do notice her on your path, she is reminding you to look closer – chances are positive developments are on the horizon.
In native lore they are also associated with the direction of true North, symbolizing the guiding, unchanging Spirit. Folk tradition tells us that to see a cardinal means a departed loved one's spirit is near, or an angelic guide is trying to send an important message.
Cardinals are also associated with the number 12, representing the annual cycle of months, as red cardinals are a year-round species. In addition, red is the color of the root (first) chakra in Eastern wisdom tradition, and also the Astrological sign of Aries, first in the Zodiac.
Posted in

Afterlife, Divination, Intuition, Life Design, Lifestyle, Self-Help, Shamanism, Spirit Guides, Spirituality
|
Tagged

Afterlife, ancestors, animal, animal medicine, animals, augury, beliefs, birds, boundaries, bravery, Christianity, church, colors, courage, culture, energy shielding, inner strength, invocation, Jesus Christ, loyalty, Native American, persistence, power, power animal, psychic shielding, religion, self-belief, self-empowerment, signals, signs, soul, spirit animal, spirit communication, spirit contact, spirit guardians, spirit guidance, Spirit Guides, spirit messages, spiritual guidance, spiritual messages, spiritual traditions, spiritual wisdom, Spirituality, symbolism, synchronicity, totem, traditions
|
Leave a comment
Published
March 14, 2021
|
By
Kitty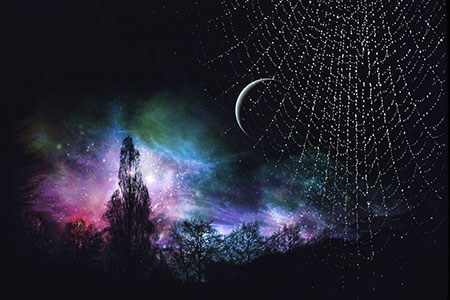 I recently saw with my own eyes a burly, grown man run screaming from his garage because he saw a spider! I could not help but wonder what he thought might happen to him? Was the tiny spider going to pounce on him and consume him entirely?
Of course, in some places in the world there are indeed deadly little creatures that could cause irreparable harm, or even death. However, in the area where we live there is really not much chance of this ever happening. Instead of running away screaming, the arachnophobic lumberjack should have appreciated instead the spiritual wisdom and life lessons his petite visitor embodies.
When we look closely at the life of a spider, we must recognize and respect its truth. It operates in a world that is dictated only by nature and honest survival. It makes its living by adhering to the laws of nature.
The spider creates creates a home for itself where it can be safe and comfortable by applying formidable patience and diligence. It takes infinite care in this process with extreme precision.
The spider does not have a strict deadline as to when it's home must be complete. The web is carefully spun after a perfect spot is chosen that will be most advantageous. This miraculous, fragile home must be able to withstand rain, sleet, snow, extreme winds and any other element that nature sees fit to throw it's way.
Once this arduous and time-consuming task is completed, the next phase is just as critical. The spider will then take on the task that all creatures, man and beast, must comply with and that is securing a source of nourishment.
Posted in

Abundance, Life Design, Lifestyle, Self-Help, Shamanism, Spirit Guides, Spirituality
|
Tagged

animal medicine, awareness, climate change, courage, food, Gaia, greed, harmony, honesty, inner peace, journey, life lessons, Lifestyle, nature, nutrition, patience, peace, perseverance, persistence, personal growth, planet earth, power animal, selflessness, shamanism, spirit animal, Spirit Guides, spiritual awareness, spiritual insight, spiritual knowledge, spiritual messages, spiritual truth, spiritual wisdom, sustainability, totem, truth, wisdom
|
Leave a comment