Explore Your Inner Shadows With Your Soul Light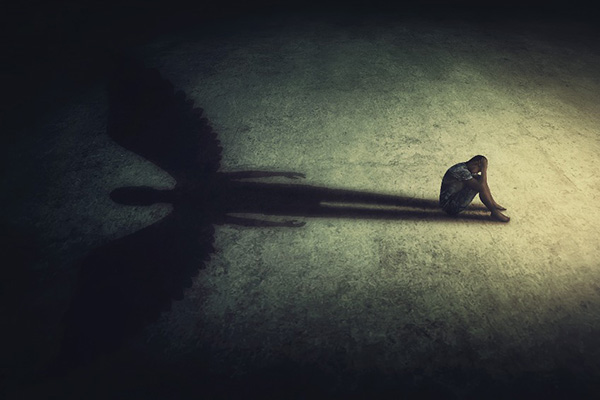 To achieve true spiritual growth, happiness, and fulfillment it is necessary for us to unravel the shadows of our inner being. To know oneself is to recognize both your light and darkness, and to love and accept your entirety. The truly awakened person is not afraid to look at their own flaws, wounds, pain, trauma, and shortcomings. Awakened people boldly face their inner darkness and know themselves deeply.
The key to finding your authentic truth is to unbolt the door to one's mysterious psychic basement. It's the courage to honestly question how well your life is going, including the fulfilment of your passion and purpose, the success of your plans and projects, the health and happiness of your relationships and family, and the bravery of your dreams.
True spiritual growth is the search for truth beyond the surface. It is to boldly plunge the depths our being. It is to leap up to our highest peaks and crawl deep into our darkest corners. Because only once we have fully opened the doors of our interior, can we begin to affect change, growth and personal transformation.
By confronting our inner mysteries we acquire freedom, wisdom, and access to a new way of beingness. We become reborn, renewed, empowered. A conscious spiritual warrior in command of our powers, gifts, and capabilities.
But how to achieve this breakthrough? The first step is to welcome, embrace, accept, and cherish the scars and wounds. Then, we investigate its origins, to find the root of what has been influencing our life towards victimhood, self-limitation, self-sabotage, or repeated self-destruction.
When the shadow rises up, you acknowledge the feeling, you sit with it, and you offer it love and comfort. As you do this, and integrate these parts of you, it will eventually stop coming up altogether ~ Sarah Regan
We need to work our way back from the current shadow thoughts and feelings to the original source or cause. For example, the feeling of jealousy in a relationship may be linked to deep-seated insecurity, which in turn may originate from a lack of affection from our parents, or abandonment and neglect in our childhood.
Once we have identified the truth behind our current dysfunctional thoughts, feelings or behaviors, we can then begin the work of managing, overcoming, replacing, resolving or changing the unwanted thoughts, feelings or behaviors. We can shine the light of healing and self-liberation on our deepest soul shadows. Intimately knowing our shadows is essential for a complete connection with our soul essence. It is a major step towards accessing our collective soul wisdom and become actively guided by our intuition and higher self.
The shadow self or subconscious does not know whether it's sabotaging us or not, of course. Because it is hidden, it can seep into our life, our beliefs, and everyday behavior in unexpected ways – sometimes even as protective defensive mechanisms meant to keep us from owning our full, unbridled power ~ Shahida Arabi
Yes, it sometimes takes excruciating self-reflection and intense courage to face some of our most secret, hidden doors within and bring the darkest shadows in our psyche to light. Unattended traumas can assassinate our hope and dreams, while unconscious fears and false beliefs poison our soul essence.
Trust yourself to have the necessary courage and inner strength to change your life according to your own truth. By trusting yourself, you will have access to unlimited emotional freedom, love, joy, happiness, and abundance. Trusting yourself, will empower you to truly be yourself.
You can be, do or have whatever you wish in this life. You are fully capable and spirit has your back. All you need to do is believe in yourself.

About The Author: Zondra

Zondra is a highly successful Intuitive and Life Coach, dispensing her unique gifts she's developed over the last 20 years. She moved back to her hometown of Rio de Janeiro, but was previously living in Norway, where she invented her own popular method, still famous today, called "Tarot&Coaching." Zondra acts as the remote control in the hands of her clients, helping them to select the best channel for their dream outcome to appear. A 5th generation psychic, her innate psychic gifts and her curious nature allowed her to explore and master NLP and Mental Training to incorporate coaching techniques that blend beautifully with Tarot. She's advised many on national and international markets and has experience serving companies in Portugal, UK, Ireland, Norway, Sweden, Denmark, Brazil, and in the US. Zondra disseminates her wisdom and knowledge through live streaming and is always available on-line to help all in need, from all walks of life. She uses her experience to benefit others, to help them find ways to make real and important changes in their lives. So, if you'd like to change your life channel pronto, you've just reached the home of a very compassionate, non-judgmental practitioner, gifted in helping you manifest the life you'd prefer to be living. Zondra can be reached at PsychicAccess.com.