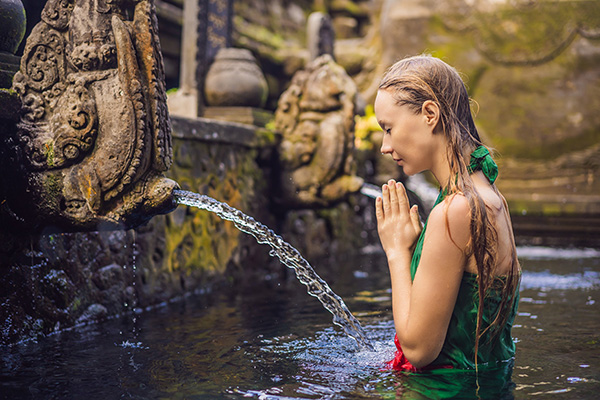 Energy cleansing should be a key component in our regular spiritual practice. To achieve and maintain a state of higher consciousness and enhanced spiritual awareness, we must constantly aim to purify and rebalance ourselves mind, body and soul.
Purification rituals are traditionally practiced in many world religions and various spiritual traditions embrace tangible cleansing rituals as a way of communing with and manifesting the Divine energy. Water-based rituals of purification are practiced, for example, in the Bahá'í faith, Christianity, Hinduism, Indigenous American religion, traditional African spirituality, Islam, Judaism, Mandaeism, Neopaganism, Shinto, Western esotericism, and Wicca.
It is no accident that animals also clean themselves regularly by grooming their fur or feathers. Nature instinctively understands that 'cleanliness is next to godliness.' Mother Nature also cleanses herself throughout the year with changes in the weather and the succession of the seasons.
I've never been much or a ritual or ceremony person myself, but I have come to embrace the need for a regular energy cleansing routine as I have grown in my own spiritual and psychic awareness.
For many years now, one of my go-to rituals is a simple spiritual cleansing bath with Epsom salt. I find it is a wonderful practice to realign my energy flow and restore inner peace and harmony. Nothing beats a proper 'soul detox' every few days.
Another practice I've adopted of late is chakra candle work. I often use these scented candles to jumpstart a client's cleansing process, or cleanse and rebalance my own energy. The candle for each chakra is infused with its own combination of essential oils. The heart chakra candle is my personal favorite.  It's laced with sandalwood, jasmine, and rose essential oils and really packs a punch!