Spirit Is Like A Lifeguard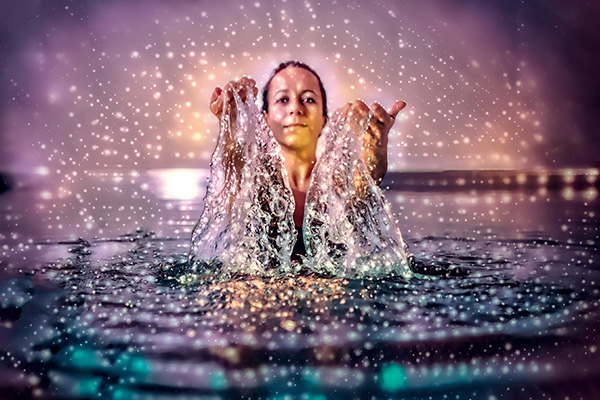 I used to work in a Wisconsin tourist town in the early 90s, holding down two full-time jobs to pay my way through college. One of my employee benefits was a free admission pass to all the city's water parks and other tourist attractions. I rarely had a day off, but whenever I did, I would relish splashing around in those lazy rivers and wave pools with childlike enthusiasm!
A popular feature at my favorite water park was a towering waterslide. At the top sat a lifeguard who would give the go-ahead for you to safely start sliding down, after the slider in front of you had cleared enough distance.
Our spirit guides are kind of like those water park lifeguards.
I remember doing a reading for myself around New Year's Day 2016, regarding my wishes and goals for the future. I wanted my midlife crisis to be over after my divorce, and I craved to immerse myself full-time in my spiritual work to gain respect and personal fulfillment.
Seven years later, I'm still working on some of those 2016 resolutions, but I have meanwhile realized that Spirit has held me back from achieving these goals earlier in my life, as I had karmic obstacles blocking my progress.
I used to be in a loveless marriage that was a karmic ball and chain around my ankle. For example, when I faced a major health challenge years ago, all my ex could focus on was the economic loss, since I wasn't able to work at the time.  I recall someone in an online support group asking him, "Don't you love your wife? Then support her!"
Sometimes the universe conspires in ways that make it look like you are being rejected, but really, you are being protected from misaligned, potentially harmful people and situations ~ Vanessa Ooms
I had always had a keen interest in astrology. Years ago, when I was trying to make more sense out of our relationship struggles, I had consulted an online service that compiles synastry charts for couples. But that compatibility chart did not highlight a rare, but vital aspect in our marriage compatibility.
It wasn't until seven years later, when I learned about the North and South nodes for the first time in a natal chart – something the Astrology books I purchased while in college do not mention – that I realized our marriage was never meant to be. My ex-husband and I have a double past life connection, as his Ascendant sign is conjunct my South Node, and my Vertex conjunct to his. Our relationship compatibility was therefore never ideal, to put it mildly! In fact, I am still processing some terrible, terrible regrets.
When a pivot is predestined on the stone tablet of your life story, there is often an inexplicable ease to it. It feels otherworldly, from an Almighty source beyond your frail humanity ~ Cicely Tyson
Today, I sometimes wonder, had I been with my true soulmate to begin with, would I have received the green light from spirit to become a professional psychic back in 2005, rather than 2013, when I first filed for divorce? I had always known that I am gifted, but lacked the courage and confidence to pursue it as a career. Instead, I ended up sacrificing time with my kids by commuting to a job I did not enjoy an hour and a half away! What was I thinking?
Perhaps God, Spirit, Source, the Divine is like a lifeguard holding us back on the boarding deck of life, when someone or something has become stuck on the slide. We are being delayed or redirected by divine intervention for our highest good, when our karma holds us back. Only when we've cleared the karmic complications that are causing the blockages in our current situation, will we be ready to safely and successfully proceed down the waterslide of our true destiny.

About The Author: Esther

Esther knows the best way to survive trauma is to keep looking for the positives in life! She left a successful career as a pharmacist in 2017, to help others see their way through the darkness. She honed her psychic gifts and developed strong counseling skills that helped thousands. She hosts her own radio show on Wednesdays and has been a sought after guest on other programs. An expert in Astrology and Tarot, she maintains a list of 250 personal clients, she's served over 2000 clients from all walks of life, and has dispensed accurate information and insights to those in need. She uses a holistic approach that allowed her to deal with her own serious illness and avoid an organ transplant! In life, she's conquered pill addiction, divorce, a serious illness and has the life experience to help others overcome their own obstacles too. For over 10 years, she led an education group for psychiatric patients and has an acquired wealth of knowledge in general health and wellness. There's no better door to knock on than Esther's. This gifted intuitive has walked in your shoes and has come out the other side healthy, happy and fulfilled. You can find Esther at PsychicAccess.com.