Cleansing Rituals Are A Vital Spiritual Practice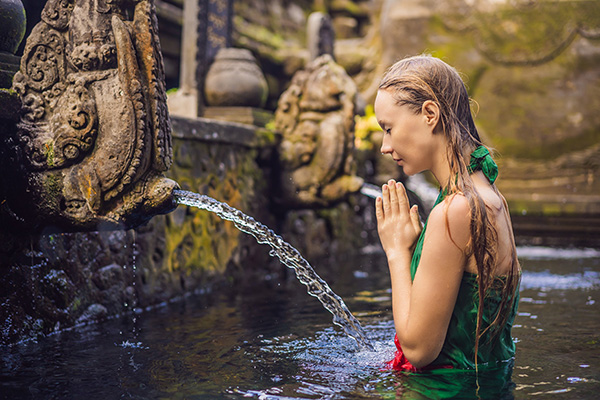 Energy cleansing should be a key component in our regular spiritual practice. To achieve and maintain a state of higher consciousness and enhanced spiritual awareness, we must constantly aim to purify and rebalance ourselves mind, body and soul.
Purification rituals are traditionally practiced in many world religions and various spiritual traditions embrace tangible cleansing rituals as a way of communing with and manifesting the Divine energy. Water-based rituals of purification are practiced, for example, in the Bahá'í faith, Christianity, Hinduism, Indigenous American religion, traditional African spirituality, Islam, Judaism, Mandaeism, Neopaganism, Shinto, Western esotericism, and Wicca.
It is no accident that animals also clean themselves regularly by grooming their fur or feathers. Nature instinctively understands that 'cleanliness is next to godliness.' Mother Nature also cleanses herself throughout the year with changes in the weather and the succession of the seasons.
I've never been much or a ritual or ceremony person myself, but I have come to embrace the need for a regular energy cleansing routine as I have grown in my own spiritual and psychic awareness.
For many years now, one of my go-to rituals is a simple spiritual cleansing bath with Epsom salt. I find it is a wonderful practice to realign my energy flow and restore inner peace and harmony. Nothing beats a proper 'soul detox' every few days.
Another practice I've adopted of late is chakra candle work. I often use these scented candles to jumpstart a client's cleansing process, or cleanse and rebalance my own energy. The candle for each chakra is infused with its own combination of essential oils. The heart chakra candle is my personal favorite.  It's laced with sandalwood, jasmine, and rose essential oils and really packs a punch!
When done with the proper intention, spiritual cleansing can have powerful and lasting effects on your physical and mental health and your overall spiritual well-being. It can help you become more mindful and spiritually connected so that you can live with greater clarity, purpose, and joy ~ Timothy Burgin
Other cleansing and purification practices I recommend include smudging with sage, cleansing visualization, nature meditation, forgiveness journaling, crystal healing, sound baths, chanting, and breathwork.
Experiment until your find one or two practices you enjoy most and can accommodate in your schedule and lifestyle. As with any form of spiritual practice and energy work, the effectiveness of a cleansing and purification ritual does not depend on what or how it is done, but instead on the intent and dedication with which it is practiced.

About The Author: Esther

Esther knows the best way to survive trauma is to keep looking for the positives in life! She left a successful career as a pharmacist in 2017, to help others see their way through the darkness. She honed her psychic gifts and developed strong counseling skills that helped thousands. She hosts her own radio show on Wednesdays and has been a sought after guest on other programs. An expert in Astrology and Tarot, she maintains a list of 250 personal clients, she's served over 2000 clients from all walks of life, and has dispensed accurate information and insights to those in need. She uses a holistic approach that allowed her to deal with her own serious illness and avoid an organ transplant! In life, she's conquered pill addiction, divorce, a serious illness and has the life experience to help others overcome their own obstacles too. For over 10 years, she led an education group for psychiatric patients and has an acquired wealth of knowledge in general health and wellness. There's no better door to knock on than Esther's. This gifted intuitive has walked in your shoes and has come out the other side healthy, happy and fulfilled. You can find Esther at
PsychicAccess.com.