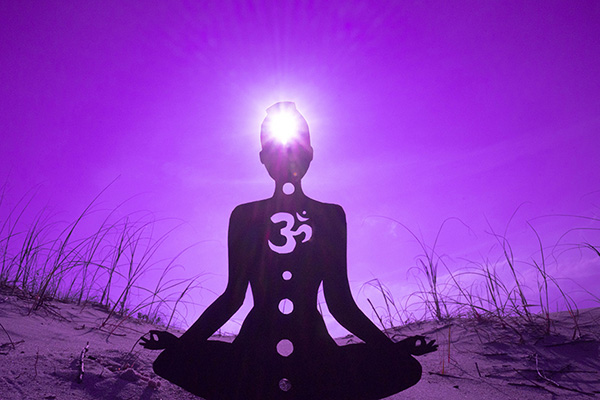 These days, many people face mental health challenges. In a world where so many demands are placed upon our time and energy, there never seems to be enough time for relaxation and proper self-care. One way to improve one's mental health and gain greater clarity is to regularly do some energy work focusing on the crown chakra.
The chakras are a system of energy centers that regulate our physical health, mental acuity, and emotional well-being. Chakra (cakra in ancient Sanskrit) means 'wheel' and it is essentially a 'spinning disk' or vortex of energy. The chakras represent the flow of life force or pranic energy through the mind-body.
There are seven primary or major chakras in the subtle or light body, spanning from the base of the spine up to the crown of the head. Each chakra has its own frequency, symbolism, color, and function. For optimal health and well-being, the chakras should be kept activated, open, balanced and aligned.
The seventh chakra at the crown of the head, also known as sahasrara padma, is the highest of the primary chakras. It is depicted as a 1000-petal lotus flower and represented by the color violet. This chakra is the energy center of our spiritual connection to the divine, from which all the other chakras emanate. The crown chakra is where we connect to God, Goddess, Source, Spirit, the Divine. It is also my experience that it is at the crown where we engage with our guardian angels and spirit guides.