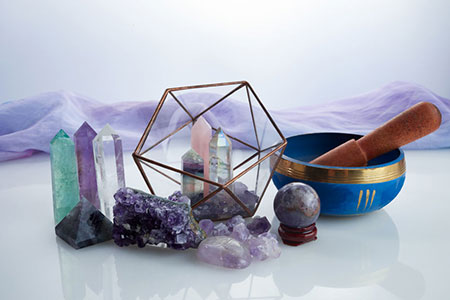 If you regularly use crystals in your spiritual practice, it is vital to have a regular cleansing routine for them to work at optimal levels.
Crystal energy work uses the subtle energy vibration emitted by a crystal, for example to rebalance the human aura or energy field for mind-body-soul health and wellness.
Crystals have a vibrational frequency based on its geometric structure giving each crystal a unique default wavelength known as its oscillatory frequency or its 'energy signature.' It is a stable energy emission that is applied to rebalance and heal our own energies.
The human body also has its own oscillatory rate or energy frequency, but our vibration is constantly shifting and changing due to various internal and external factors, including our thoughts, beliefs, mood states, nutrition, sleep, lifestyle choices, relationships and our environment.
The difference between the energy frequency of humans and crystals is that while ours fluctuates and is constantly changing, the vibration of a crystal in its natural state remains constant, stable and unchanging. It is like the factory settings on a brand new computer.
However, like a computer or the human body, crystals can also become contaminated with negative energies, much like viruses or malware. For our healing crystals to continue working the way nature intended, it is important to cleanse them properly or a regular basis.
Some practitioners cleanse their crystals and stones after each session, and this is not a bad idea, considering we expose them to all kinds of energies, no matter how unintentional, every time we handle them. Think of how many smudges and smears you create on your phone screen or glasses every time you use them and then imagine what the many energy imprints your crystals must endure with regular use.