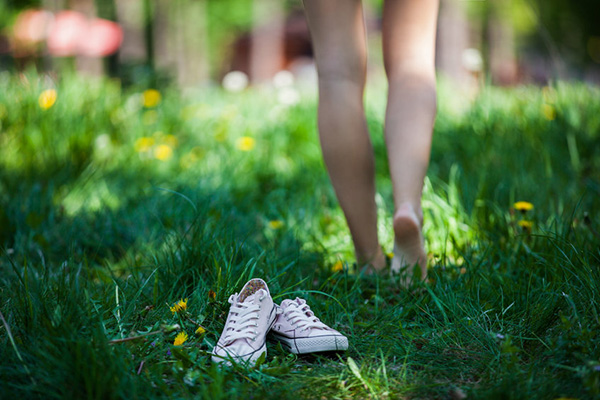 We've all heard the terms 'grounded' and 'centered,' but do we really know what they mean? Do you ever have days when you feel like a part of you is a step or two behind the rest of you? Do you ever feel 'hungover' even though you know you didn't close the bar the night before? Do you ever have a disconnected feeling? Any of those is a sign that you're not grounded.
If you're anything like me, you can't process information or participate in the discussion going on around you. There are even times I just stare blankly at the wall, the TV or the person who's trying to talk to me.  At times, I will have arrived at an appointment and not remember driving there, but since the police aren't there, I must assume I didn't break any laws.
Grounding, for each of us, is personal. Some people smoke. Coffee can keep you pretty grounded too. I prefer using more harmless methods. An easy way to re-ground is to sit or stand on earth, and just breathe.  As you breathe in, imagine the earth coming up through your body to your head. As you breathe out, release the tension in your shoulders, back and neck. Breathe fresh air in, and toxins out. Slow down, take a few minutes to anchor yourself in this plane. I use this one a lot when I am doing touch therapy or after a hard reading.
Centered is felt in the solar plexus, when you're centered, you're in balance, your insides match your outsides and there is a sense of knowing what's going on. There's also a sense of confidence that radiates from inside to out.
To re-center sit or stand up straight, align your hips with your shoulders. With your projective hand place the three fingers right below your sternum while allowing your other hand to hang loosely at your side.  Relax your shoulder and neck muscles. Take three or four deep breaths releasing tension with each exhale.