elixir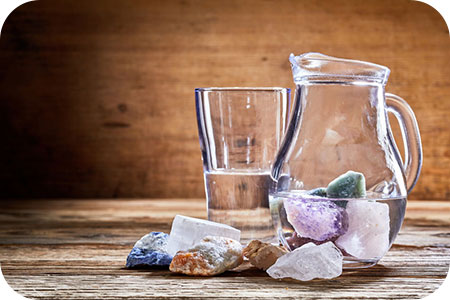 Drinking crystal-powered water is a must for anyone doing any kind of healing work. It is a great way to boost your immune and nervous systems, clear your mind of negative thoughts, increase your intuition and raise your vibration.
So, how does it work? First, you want to select a crystal that resonates with you. Keep in mind that each crystal and stone has a different metaphysical meaning, quality, energy and vibration.
Quartz crystal is the most powerful for healing work.
Rose quartz and green stones, like Malachite and Aventurine, helps with healing heartbreaks and emotional loss.
Amethyst is good for raising your vibrational and increasing your intuitive ability.
Carnelian is good for giving you a creative boost.
Citrine helps with finding your inner wisdom, will power and healing your childhood wounds.
Red Jasper and Bloodstone are great for releasing fear and anxiety.
Lapis Lazuli is great for helping you be a more effective communicator. It is a great elixir to drink right before giving a speech or having an important meeting.