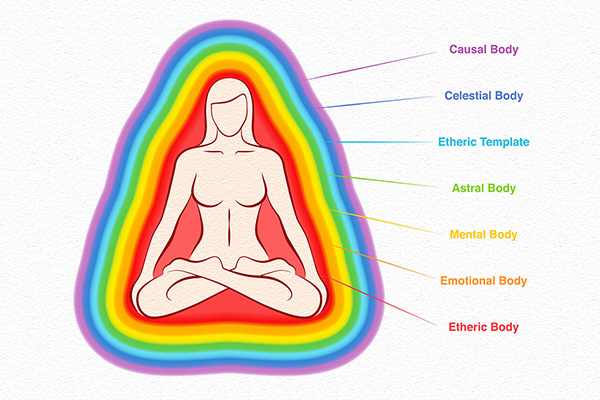 Psychic perception or extrasensory perception is the ability to perceive information beyond the five normal senses. This ability is harnessed and used in all forms of psychic readings and mediumship.
The aura, also known as the subtle body, light body and human energy field, is an egg-shaped field of energy that emanates in different colors from us and encloses our entire body. The overall size, shape and dominant colors of our auric field is influenced by our physical, mental, emotional, and spiritual health.
Psychic connections can be made through different layers of energy in our aura or personal energy field, of which there are seven. Each of the seven auric layers are associated with the seven primary chakras or energy centers of the body, and reflects specific, personal aspects of our being. The auric layers essentially function as protective energy 'sheaths' or 'buffers' for our light body, similar to the layers of our skin protecting our physical body.
Psychics and mediums can access these auric layers to do many different kinds of readings and energy healing. Clairvoyant psychics do not only feel or sense these energies, but can also 'see' the size, color and shape of people's auric energy.
Today, there is also modern photographic technology that can capture some of these energy layers of an individual's aura in a visual image. Aura photography dates back to the 1930s and was discovered by Semyon Kirlian, a Russian inventor, when he found a way to capture the energy fields of living beings using high-frequency electrical currents.