Published
July 27, 2021
|
By
Megan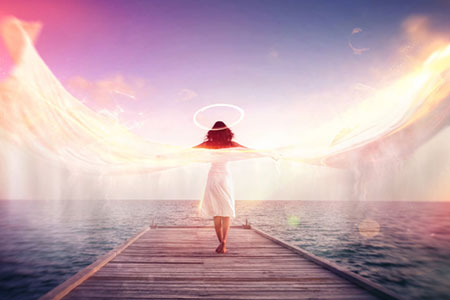 Working with the Angelic Realm will bring many blessings into your life. I know this to be true from first-hand experience. In the few short years I have consciously been working with the Angels, my life has completely changed and taken on new purpose and meaning.
I used to suffer from depression, anxiety, and a lack of direction, but these days my life is rich, fulfilling and abundant with magic and miracles.
The Angels have had a considerable influence on my life for the better. This is why I am now passionate about teaching others how to work with these loving beings. I want others to feel the joy and fulfillment I now feel every day.
Before we begin to work with the Angels, it is important to note a few tenets. The first is that, when I refer to 'working with the Angels,' I mean this in a non-denominational way. It is not attached to any religious dogma.
The second is that everyone has at least two Angels always working with them. There are no exceptions to this rule. Furthermore, nothing you can do in your life will ever make your Angels stop loving and supporting you unconditionally. In fact, it is their unconditional love and guidance that makes working with them so healing and transformative.
Finally, everyone can learn to hear, see, feel, and know their Angels' loving messages to them.
So, how do we do that? The first step is to ask. Ask your Angels to help remove any fears or other energy blockages that may be preventing you from clearly receiving their guidance and wisdom. I find it is best to do this before going to bed at night. When we are asleep, so is our conscious ego or thinking mind. This makes it easier for us to process our emotional and energetic baggage.
Posted in

Abundance, Angels, Conscious Creation, Energy, Energy Work, Healing, Life Design, Lifestyle, Metaphysics, Self-Help, Spirituality
|
Tagged

abundance, angel guidance, angel messages, angel readings, Angels, aura cleansing, cleansing, clearing, divine guidance, energy cleansing, energy protection, fulfillment, guardian angel, guidance, Healing, inner guidance, inner wisdom, joy, manifesting, mindset, mood, psychic clearing, receiving, self-care, self-empowerment, self-worth, signs, sleep, spirit communication, spirit guardians, spirit guidance, Spirit Guides, spirit messages, spiritual guidance, spiritual healing, spiritual practice, spiritual protection, spiritual realm, spiritual resources, spiritual wisdom, Spirituality, support, synchronicity, transformation, trust, unconditional love, wisdom
|
Leave a comment