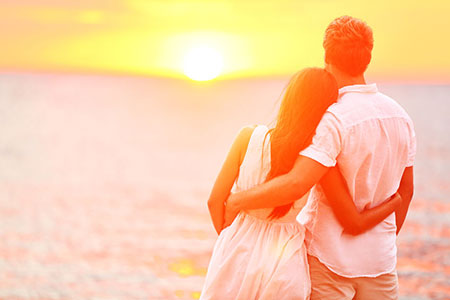 Soulmate connections are a very real and powerful phenomenon, but many people find it difficult to determine whether someone truly is a soulmate, or not.
In my experience a soulmate is someone to whom we feel deeply connected, as though the communicating and communing that take place between you were not the product of intentional efforts, but rather a divine grace.  This kind of relationship is so important to the soul that many have said there is nothing more precious in life.
We may find a soulmate in many different forms of relationships and in all areas of our lives, including friendship, marriage, work, family and recreation. We even find it with a delightful 'critter' – the pets we feel that special connection with.
Many times, when a soulmate first comes into our life, we have that feeling of familiarity as if we have known them before. Often, indeed, we have known them in a past life or many previous lives.
The famous American psychic Edgar Cayce stated that a soulmate is an individual who we have an ongoing connection with. The soul picks up on this longstanding connection with that person again and again in various times and places and over many lifetimes.
Most importantly, Cayce further stated that we tend to be attracted to another person at a soul level, because by being with that individual, we are somehow provided with "an impetus to become whole ourselves". This is also known as 'soul recognition'. We are therefore not drawn to our soulmate simply because that person is our unique complement.