Aura Reading Made Easy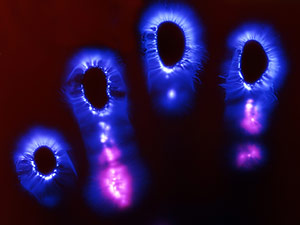 Every living thing has an aura: a surrounding light of a specific color or colors. If you've never discovered your own aura, or that of a friend or loved one, it's easy to learn to read auras.
The first step is to put your mind at ease. Try meditation techniques or simply breathing deeply. You may wish to begin your practice on yourself, by looking in a mirror, or else a plant or pet (if your pet will sit still!)
Choose a well-lit room; white light is best for the exercise. Let your eyes travel over the subject and go slowly out of focus. The first thing you are likely to see is the inner aura, which appears as a slight outline usually around the head and shoulders. Once you are comfortable with this first step, practice expanding your sight. You will start to see other colors beyond the white rings. They may be faint at first, but don't worry.
You can learn to do aura reading on people, pets, plants. If it has consciousness, it has an aura ~ Rose Rosetree
You may also see different colors surrounding different parts of the body. Because we have different chakras, or layers of consciousness, this is normal. One person or animal may have several different colors in their individual aura.
Try to approach your aura reading with an objective mind. Because you are always looking through your own aura, feelings such as anger, depression or sadness will color your reading accordingly. The more balanced your current state of mind, the better the reading will be.
It may take a while for you, especially as a beginner, to see some of the darker colors, like blue or purple. Don't be frustrated, and keep practicing.
Because there are so many different colors, picking up a good book or website on the subject is recommended. However, don't let others' ideas necessarily influence you too much. No two people are the same and neither are their auras!
If you're wanting your own aura read and feel like you're not quite ready, try finding a qualified reader in your area. It's possible he or she may also be willing to help you practice your new skill.

About The Author: Mystic Shelley

Mystic Shelley is a Psychic Medium. She has been reading for over 15 years helping and guiding people. She uses my 8 spirit Guides during her readings. She reads in the area of love, relationships, career, money and all matters of love. She will give you only honest and direct answers. Get a reading with Mystic Shelley now at PsychicAccess.com