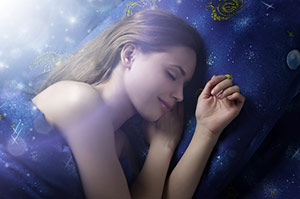 One thing that almost every one of us has in common is our dreams. Even if we don't remember them the next morning, we dream each and every night.
But what do they all mean? Dreams are a way for the subconscious or psychic part of ourselves to work out our problems.
Many of our dreams feature larger-than-life or fantastical images that couldn't possibly exist in the real world. That's because they are symbols. Many have written on the subject of symbolism, from the ancient Egyptians to modern psychologist Carl Jung. Just as no two people are alike, nor are their dreams.
You may often ask yourself how to interpret your confusing or murky dreamscape. The first and best way is to keep a dream journal. It's preferable to have it by your bedside, so you can write it down once you wake up. As you start doing this, you will notice patterns emerging. If you meditate during your waking hours, these recurring images will no doubt appear there as well.
Read the rest of this entry »