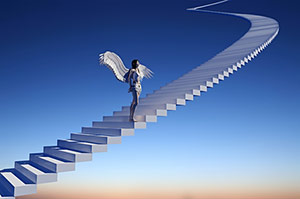 I was nine years old when I saw three beautiful Angels, in what you could call a rather 'unlikely setting'. My parents were visiting some friends one Saturday evening and when the drinks began to flow, they put me upstairs on the bed, in their friend's master bedroom.
The adults were making quite a lot of noise downstairs, and I found myself lying on the bed looking up at the ceiling, when lo and behold, just like a sliding door, the ceiling opened up and there were three magnificent beings with the night sky in the background. Today I know they were Angels. Read the rest of this entry »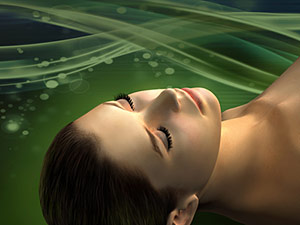 Dreams are a very powerful tool in our spiritual lives. I sometimes receive calls from clients concerned about their dreams. If you search in books, or on the Internet, you will find that there can be many generic interpretations of a dream. But the best way to get to the heart of the matter, is to have your unique dream interpreted by a dream interpreter or psychic reader.
When I do dream analysis I would ask the client questions about the dream, for example if it was in color or black and white. I feel that dreams come partly from the heavens, but also from what had happen to you that day. I had a dream once about a client's voice and later that day got a call from that person – and they had something happen to them. I know that some dreams can go very deep if you're in the last stage, when you're sleeping. And if you have the TV on, that can affect your dream at that time. Read the rest of this entry »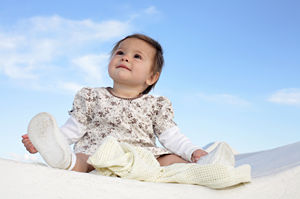 When I was very young I already had the ability to sense, feel and know things were going to happen before they did.
I had many paranormal experiences as a child. I felt I could speak to animals and I had dreams about future events that came true. I remember specific dreams of numbers that came in the lottery the next day. I was only five at the time, who knows about the lottery at that age?
How can you determine if your own child has psychic abilities? If a child shows signs of great knowledge beyond their years, if a child can sense what will happen before it does, or recognizes a place but has never been there, then you should pay careful attention.
If you have noticed your child speaking to imaginary friends or looking off into areas where there is nothing there are also signs of your child having a sixth sense, or psychic ability. Read the rest of this entry »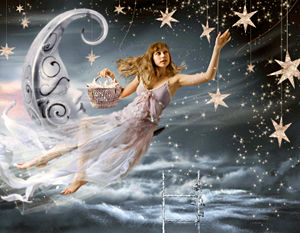 There are times when our dream life seems to be super active, and yet at other times not so much. I've found there to be a direct correlation between how much a person 'participates' in their own life and how active their dreams can be. In other words, we must make our own dreams happen in this life!
There are dreams that foretell the future, and you are really lucky if you have these types of dreams. If you trust your intuition they can be especially powerful, because you can use the knowledge shown to you in such dreams to your advantage, or at least for your protection.  These dreams sometimes also give the dreamer a time frame for when something is supposed to happen. Then there are dreams that are more symbolic. These dreams represent something happening in our lives, or the lives of someone close to us. They too can give you direction, but more about how to handle what is going on, or if you are moving in the right direction. Read the rest of this entry »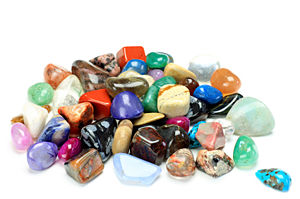 I am sure you have heard before that you should follow your intuition when choosing crystals. Always go for the stones that stand out from the crowd. This could be the crystal that sparkles and shines the most for you, shouts and waves at you, or virtually leaps off the shelf at you.
Buy the crystals and stones that really catch your eye, because those crystals share a kindred energy with you. They will help you in unexpected and amazing ways. And this is absolutely true!
But, what about the crystals you don't like? What about the crystals that really turn you off? These special stones are the ones that you really need to take a second look at. These are the ones that will truly help you on the deepest level. Read the rest of this entry »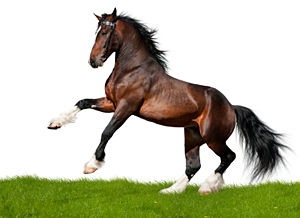 Spirit speaks to me in so many ways. I can't physically see them, unless they come to me in dreams, but I can hear their thoughts, sometimes hear their voices, and feel their presence.
I work part time with a paranormal research group out of La Grange, North Carolina. This group does home investigations, so before every investigation, I am given just the names of the people who live in the home. I also asked the team members not to discuss anything further with me about the clients, until I have completed my reading and can discuss it with the client in private. Some messages and information that the client receives may be too personal, so I like to make sure to sit alone with the client and let them go over everything I have typed, to ensure all of their questions have been answered. Read the rest of this entry »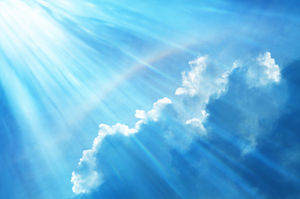 Returning to the demands of modern life after the holiday season can be an especially stressful time for many, and in the hustle and bustle it is easy to forget your connection to Source. Below is a quick fix that will keep your connection strong and keep you grounded and refreshed as your venture into the new year.
In the etheric realms there exists healing temples available for your use. You can go with the intent of learning something new, or for healing your physical body or other problems that may perplex you, or simply for some rest and rejuvenation.
Whatever your intent, you can rest assured that your guides and the attendants at the healing temples will take good care of you and work on the presenting symptoms or issues in ways that align with your highest good. Read the rest of this entry »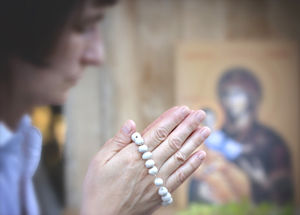 Humans' perfectionist tendencies arise in all forms of study, application and discipline.  This is most apparent in spiritual endeavors. This is as yet an unproven voyage or ascension that people of all cultures seem to believe in. This serves to help us survive reality, survive loss and connect with loss in a more positive manner. Many people have respected their ancestors and still do perform rituals. These caring gestures can be uplifting but also estranging, jettisoning us into a world that we can only dream of, never touch and only abstractly understand.
The ascension process has many pitfalls and points of despair. It is as if the common theme in all ascension is some form of penance, suffering or denial of the physical body. This denial to me is somewhat unnatural and can be taken into forms of zeal and eventually political extremism that has no benefit except for the illogical conclusion that one will be assured a safe place in paradise. Read the rest of this entry »