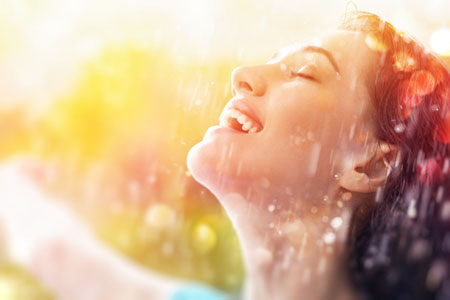 The act of giving thanks is a transformative one. When we live in gratitude, our energy vibration becomes elevated, and this positivity spreads outward like the ripples in water. If you've ever heard of paying it forward, this is the same idea! Gratitude changes lives – both our own and that of others.
Being appreciative and giving thanks to others, to the Universe, to the Earth for its sustenance, raises positive energies which will in turn come back to us.
Sometimes being grateful can feel like a chore, or something we need to pretend feeling. Every one of us experiences hardship and adversity. Life's challenges sometimes get even the most grateful people down. The best way to flip that into something positive is to make a list of gratitude statements, in your mind, aloud, or in your journal.
Are you grateful for your friends, family, your health, the beauty of nature? Maybe you're simply thankful you were able to get up this morning, when many other people were not.
Make this process one from the heart. Feel the positive energy. After a while, it will become an uplifting habit, and your body and mind will start to enjoy the positive rush of feelings. Let this routine be the first thing you do in the morning, and the last one you do at night before sleep.