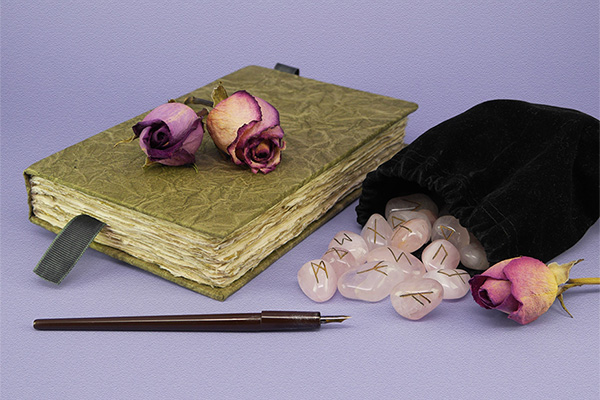 Journaling is a powerful practice for self-discovery and personal growth. It allows one to reflect on your thoughts and emotions, gain clarity, and connect with your inner wisdom. Sometimes finding the necessary inspiration for a journal entry can however be difficult. A wonderful way to enhance your journaling practice is by incorporating runes. The runes are an ancient Germanic alphabet used for writing, divination, and magic. Each rune features a unique symbol representing different aspects of life and the natural world.
The use of runes as a divination tool dates back to the Viking Age (793–1066 CE) and has been practiced by many cultures throughout history. Today, runes are often used as a tool for self-discovery, personal growth, and spiritual practice.
Using the runes to inspire journaling is a simple and effective way to take your spiritual practice to the next level. Here are some steps to get you started.
1. Choose a set of runes that resonates with you. You can order a rune set online, purchase it at your local metaphysical shop, or even make your own. Each set should include 24 runes, plus one blank rune that represents the unknown or unexpected.
2. Set an intention for your rune journaling practice. Before you begin, relax, take a few deep breaths, and then set a clear intention for what you wish to gain from today's journaling session. It might be clarity, insight, healing, or guidance on a specific issue.