The Power Of Creativity To Transform And Heal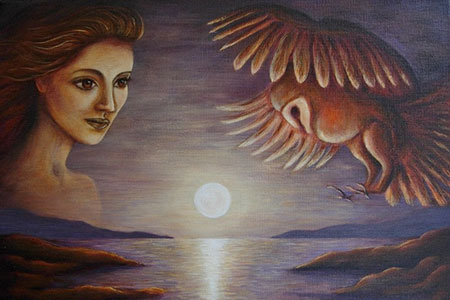 Creative play is a crack, or a doorway into another part of ourselves… into our intuitive and spiritual nature. To explore our creativity is to open that door of possibility.
It is easy to doubt our creativity when we compare ourselves to others, and to great artists of the past. Through their life stories and work, the master artists left reminders, showing us that creativity is not something we are taught, but rather something we are. Tapping into this is about experiencing this for ourselves, in whatever form that may be.
I took up painting as a hobby in my late 20s. It began as a desire to learn to paint, although I held the belief that I wasn't really creative, given my Finance and Accounting background. I had never considered Art to be healing, or that it held personal healing benefits.
At the beginning of my journey, I immersed myself in art books and read about other artists. I also joined a local art group. In class one day, I felt inspired to paint the Buddha. From the moment I picked up my brush to paint him, I could feel a presence by my side and I could see in the blank canvas the face that was to appear, long before it was visible to anyone else. That painting is the piece that changed the direction of my life path, as I embraced my creative and spiritual gifts.
Turning up to a blank canvas, is like saying yes to life and the unknown of what lays on our path. And there are many benefits of saying 'yes' to painting. Painting allows us to express ourselves through our work, it allows us a time and space to reflect on our life and the meaning we attached to our experiences.
The blood flow increased for a beautiful painting just as it increases when you look at somebody you love. It tells us art induces a feel good sensation direct to the brain ~ Prof Semir Zeki
Each painting or creative project can be a new dialogue, or a blank page in a journal of our life, with each piece meaning something different to us. Timeless Wisdom, captured in the photo above, is one such piece. It was my reminder that my inner wisdom is always within my reach, even when I feel lost.
Art shares our stories, and allows us to communicate to others, who may not be able to hear our words, rather connecting with us through our pictures. Group art classes are also a wonderful form of social engagement, allowing us to connect with people from diverse social groups and cultural background, offering enriching and rewarding encounters.
When we increase our mastery in a creative pursuit, such as painting, the skills gained transfer a sense of control over our personal circumstances away from the easel. Painting is also an amazing metaphor for life. Each experience, heartache, and happy moment all mater. As they make up the layers that go into the masterpiece of our lives.
Sometimes life, like a painting, needs to be viewed from a different perspective to truly appreciate its value and beauty. It is in these moments that we have opportunities to make different choices and to prioritize what is important to us.
There are some paintings that never make it to the wall, reminding us that there are relationships and experiences that don't always last. Some relationships, need more care, attention, and more layers of understanding.
If the composition of a painting isn't quite right from the outset, no matter how many layers of paint are applied, it may never quiet feel right.  Just as there are values, and basic human needs that need to be met within our relationships, in order for love and harmony to thrive.
Your gifts lie in the place where your values, passions and strengths meet. Discovering that place is the first step toward sculpting your masterpiece, Your Life ~ Michelangelo

There are times also when going outside the norms of composition and artistic rules creates profound art. Could you imagine life without the beautiful work of Monet, Van Gogh, and Picasso, to name but a few? They were artists who crossed new artistic frontiers. Showing us that there is still so much for us to create and share, and we should never be limited by past creations.
When an artist embraces these experiences and channels them into art, the work becomes an expression of their journey. It makes their life experiences accessible to viewers, an opportunity to experience their own inner journey with the healing energy that emanates from the artworks.
Beautiful images naturally promote subliminal feelings of well-being and happiness in those that admire and enjoy their beauty. We all benefit from art and creative expression.
Our unique creativity can be the bridge that takes us home to our hearts. It can be a way of finding peace and understanding, for transitioning through life. I believe everyone has their own 'space'. Their own activity or calling through which they may feel this connectedness. Whether it be painting, writing, music, or gardening.
For each of us it is different, but you'll know when you find it. Time will stand still and you will feel an effortless flow. When you're in that space, you don't wish to leave, but even when you do, the impact of the connection you create will be carried with you and felt in every area of your life. If you have found it, honor it and stay true to it.

About The Author: Cheanne

Cheanne's Divine gifts came to her in her early 20's, when this young Australian accountant felt suddenly compelled to take a creative art class. On the blank canvas, she saw a face that moved her greatly, and she painted it. The brush took on a life of its own, as she painted the divine presence of Buddha. We are not alone, she suddenly knew, and that feeling has stayed with her ever since! Messages and healing have come through her art work and from her Intuitive sessions that connect clients with spiritual guidance to navigate through life's changes and challenges. She also helps clients tap into and experience their own unique gifts. Since 2013, Cheanne's helped business owners achieve their creative visions, she's provided clients with portraits of their Angels and Guides, and she's channeled messages at New Age Festivals, Expos, from her local practice room, home studio, via phone and internet, and through the dozens of group workshops and intimate retreats she's provided. Her unconditional, loving support has touched thousands, and acts as a bridge to connect clients with a powerful, Divine Guidance. You can find this unique and wonderfully talented Intuitive at PsychicAccess.com.