The Magic Of Flowers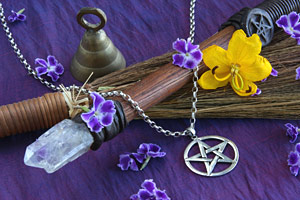 Like all living things, flowers and plants have unique personalities, wants and needs. Because they don't speak, it is easy to overlook them. They have auras and have been shown to possess memories.
Anyone thinking of practicing magic should become familiar with a variety of plants and flowers. It is also a good idea to have a few favorites around the house.
Flowers speak to us. There is a good reason celebrations from birth to death, and everything in between, are synonymous with flowers. If you don't know a Daisy from a Dogwood, here's a look at some of the more familiar blooms and what they magically  represent:
Every flower is a soul blossoming in nature ~ Gerard de Nerval
Apple Blossom: Long life, fairy magic
Aster: Stars and the heavens, the sign of Virgo
Bluebell: The fairy realm, the battlefield, truth
Cactus Flower: Manifestation of dreams, overcoming adversity
Carnation: Ceremony, capricious love
Cherry Blossom: Feminine mystery, fallen heroes
Chrysanthemum: Protection, symbol of the royal house of Japan
Daffodil: Youthful beauty, rebirth
Daisy: Babies and toddlers, innocence, good luck
Dandelion: Nature's oracle, perseverance
Gardenia: Peacefulness, friendship
Honeysuckle: Attracting wealth, intuitive powers
Iris: Communication skills, wisdom
Jasmine: Love, psychic powers, prosperity
Lavender: Transformation, healing and soothing
Lilac: Seeing past lives, warding off evil
Flowers have spoken to me more than I can tell in written words.  They are the hieroglyphics of angels, loved by all men for the beauty of their character, though few can decipher even fragments of their meaning ~ Lydia M. Child
Lily: Purity, life and death
Marigold: Prophetic dreams, virgin goddesses
Morning Glory: Banishing unwanted attention
Peach Blossom: Finding true love, fertility
Peony: Protection from evil, mental clarity
Poinsettia: Winter magic
Poppy: The realm of sleep, funerals, moon magic
Primrose: Revelation of truths, used against dishonesty
Rose: Romantic love and passion, the goddess Venus
Sunflower: Sun gods, adoration
Thistle: Protection, recovery from injury or illness
As always, it's a good idea to consult a well-written book or experienced practitioner if you are just starting out.
Also, if you are venerating particular deities, get to know their sacred plants. However, if you are ingesting any part of the plant as part of your practice, absolutely be sure it is not toxic!

About The Author: Mystic Shelley

Mystic Shelley is a Psychic Medium. She has been reading for over 15 years helping and guiding people. She uses my 8 spirit Guides during her readings. She reads in the area of love, relationships, career, money and all matters of love. She will give you only honest and direct answers. Get a reading with Mystic Shelley now at PsychicAccess.com