How To Manifest A Loving Partner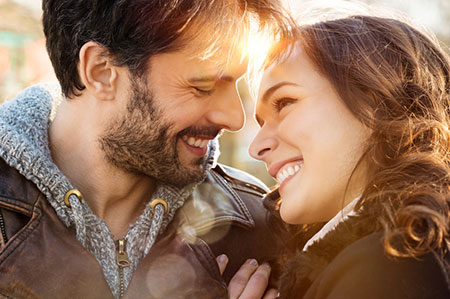 He loves me, he loves me not. Do you find yourself daydreaming about love? Imagining your next partner, what they will look like and when they are going to arrive in your life? Maybe you're wondering if the person that you are interested in is also into you? Or perhaps you're simply contemplating your current relationship?
Whatever your current relationship status, I am sure that thoughts of romantic love creep into your mind from time to time. So, given that we manifest not only with our actions, but even more so with our thoughts, take heed! Manifesting real, meaningful love isn't as hard as you may think.
I believe that a loving, fulfilling relationship should be available to everyone, and not just a few lucky people. So, if you're struggling, let me try and help you get to the bottom of the problem.
Since the same rules of manifesting apply in all situations, no matter what the desired subject or outcome is, I'll give you the four simple steps I've used hundreds of times to manifest things into my life. And let me ease your mind: they don't work just for me. These easy, yet powerful steps have worked for many of my clients.
First, you need to decide, and I mean clearly decide, what type of relationship you want. You need to have an inner dialog with yourself, and ask: does this work? Is this who I want and need?
Focus on the best you can in others; and when characteristics you want are missing, practice seeing them anyway – for when you practice the thoughts of the things that you desire, they must show up in your experience ~ Abraham-Hicks
Too many of us just accept what is given. Instead we should actually establish first if it truly works for us. Who do you want your lover or partner to be? I don't specifically mean their name, but who are they as a person? How will they treat you? How much attraction will you feel? Do you share religious and political views? Are finances and job status important? What about pets? Children?
Yes, declare it. All of it. Say it. Say it out loud. Write it in your journal. Use a dry erase marker to put it on your bathroom mirror. As you declare it, so it is set into motion to manifest in your life.
Now, here's a thing to pay attention to. As you've decided what you want, and are getting ready to declare it, remember to always do it in the positive sense. Your words are very powerful and the Universe does not discriminate between 'good' and 'bad' phrases. Everything is viewed as a positive. If you choose to use words like "won't cheat on me," be forewarned. The word won't will basically be 'wiped' from the equation, leaving you with only the phrase "cheat on me." So, instead switch it to a positive phrase, such as "my partner is honest and faithful."
To own it, you need to feel it, and believe it. It's yours. That dream partner is your partner! Even if they haven't identified themselves yet, they do exist and they are your partner. Sit in meditation and notice how it feels now that you have that relationship. Yes, put it in the present tense, as if your beloved has already arrived.
Don't settle for anybody just to have someone. Set your standards. What kind of love do you want to attract? List the qualities you really want in the relationship. Develop those qualities in yourself and you will attract a person who has them ~ Louise Hay
When manifesting a loving partner, a simple, but helpful mind trick is to think of people and relationships that already have those characteristics that your dream partner has. Are they kind? Who in your life is very kind? Sit and feel that emotion, that relationship, and declare this same feeling is felt for your partner. Are they compassionate? Who in your life already displays compassion to you? Is your dream partner financially secure and generous with their money? Who in your life already has these traits? The key is to identify the feelings you have surrounding those personality traits and wrap them into one person.
When you are manifesting something that involves another person, both people must be on the same page, and that sometimes requires more time and patience. I can't stress it enough. Make sure to be really clear with what is important to you in the relationship and the feelings that surround that. If you absolutely cannot deal with someone who is hypocritical, or someone who can't seem to hold a job down, or who is extremely cautious in all areas of their life, or who wants a big family (when you don't want children), then address that when manifesting.

About The Author: Venus

Venus lives in Arizona and has helped clients with her arsenal of psychic gifts for over twenty years. She was blessed with Clairvoyance, Clairaudience, Clairsentience and Empathic gifts, and she is also a certified Life Coach and a Reiki practitioner. Departed loved ones will often enter a reading, either invited or they simply show up to pass along their messages. Messages also flow in from her direct communication to Spirit and Angels, providing the client with the answers they need to get them moving forward toward happiness, rewards, and success in their lives. In addition to being a psychic, life coach, and reiki practitioner, over the last ten years, she has also been a teacher and has led seminars to help others embrace their higher knowledge. If you'd like a compassionate psychic who can tune-in immediately and channel without tools, you'll want a reading with Venus at: PsychicAccess.com.